Metro this is officially known as Microsoft Design language which is the windows 8 style is one of the trending designs these days, which gives a high level information about the task at the first level and can deep dive into it if the user is interested. Here we have best metro wordpress themes which can be used for any kind of business, the metro responsive wordpress theme are fully compactable for all kinds of mobile, smartphones and tablet device. The themes are fully configurable and the webmaster can easily change the colors accordingly.
MetroFolio
This is the WordPress version of MetroFolio. It's a clean portfolio style WordPress theme made for creatives out there, whether you be a graphic designer or product designer. It's been made to have a portfolio look for a professional presentation of your work.
Metrolium – Responsive Multi-Purpose WP Theme
Metrolium is a modern, metro inspired, multi-purpose, Retina Ready responsive WordPress theme. Beautifully designed, lovingly coded and absolutely bursting with functionality. As though that's not enough, you'll also receive free updates and great support to boot. What more could you possibly want?
Metrika – Responsive OnePage WordPress Theme
Metrika — a modern, dynamic, high-quality OnePage WordPress Theme. Following the trends in design, we tried to create, first of all, convenient and functional product that will not take a lot of time to configure and setup.
Safarica – Smart And Creative WordPress Blog Theme
Metpo – Modern Responsive Retina WordPress Theme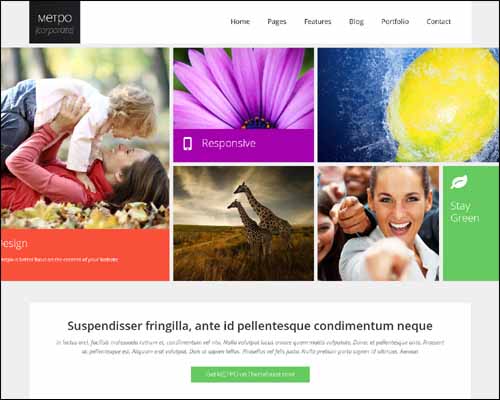 Safarica is smart & creative professional WordPress theme, created by experienced WordPress developers. Perfect choice for your personal blog, niche blog, corporate/agency/business blog, authority blog or any type of creative blog or even magazine.
Built it yourself Responsive Theme
Rootsmetro is a Responsive retina ready build it yourself WordPress theme with a powerful customizer and page builder.
Arto – A Flat & Responsive Multipurpose Theme
ARTO is a beautiful Flat and Responsive WordPress theme with a clean design that fits perfectly for your upcoming project. ARTO is simple to use with an Advance Theme Option Panel and a lot of cool features that make this theme suitable to be a portfolio, business, corporate or landing website. Just be creative!
Advance Theme Option Panel – We are using Option Tree – admin panel to make the theme truly custom. From this Admin Panel you can customize the entire website: colors, layout, typography, custom sections and more.
Mantra – Portfolio Metro WordPress Theme
Mantra is beautiful metro design portfolio and completely responsive. Perfect to show your work in a creative way and stand out above the rest.
Econo – Retina Responsive Multi-Purpose WP Theme
Econo is a responsive and retina ready WordPress theme that is a great fit for just about any website. Use this theme to build a perfect portfolio, professional business website, clever design blog, or anything else. WIth all of Econo's options for background colors, page layouts, and design details you can create the website you've always wanted.
Glider – Clean & Powerful Flat stylish theme
Glider is the best choice for people who want to be successful!
Whether you need a large professional corporate site or a small entertaining blog, or want to create an informative magazine – our multi-functional ultra-modern Glider theme will fit all sites purposes!!! It has super stylish design that is fully responsive.
Its multiple easy to use options and features allow you to build and organize your content the way you want it to be as with our theme you have all needed tools for implementing your creative designing ideas! 7 splendid layouts will not leave anyone indifferent and you can also create your own unique layout with the help of very easy to use admin panel. And if you have any question or run into some problems, our friendly efficient support team is always ready to help!
Choose the quality and style – choose Glider!
Metro Rox HTML5 WordPress Multipurpose Theme
We presenting you our latest Metro Rox HTML5 WordPress Metro Multipurpose theme. The fast, easy, light theme will decorate almost any site on wordpress. We had made it with a high booster wordpress theme backend option which will help you to change anything from theme settings area. is flexible and comes with a predefined suffix class or widget class suffix. It is easy to customize and arrives with REAL QuickStart Installation Package for wordpress . various widgets and PSD Sources for various graphics used on the demo site. It is fast loading and compatible >IE9+, Firefox, Chrome, Safari etc. This theme includes a rich documentation where you can find documentation, tutorials and find code snippets on how to customize the theme. So "Metro" is here at Themerox for your perfect choice.
Daisho – Flexible WordPress Portfolio Theme
Daisho is a portfolio solution for creative professionals and companies looking for a minimal and professional look. Flexible and responsive presentation, smooth navigational flow and clutter-free approach. Put your works in focus. Powerful Typography Plugin included.
NEWS24 | 4 in 1 News/Magazine WordPress Theme
News24 is a clean coded/documented General News, Magazine, Sports News theme.It comes with 4 different styles and some custom widgets for that style.It supports all modern browsers and also Internet Explorer 7,8,9,10 without a doubt.Also for high resolution devices News24 uses retina display images.
One Touch – Multifunctional Metro Stylish Theme
The fast, easy, light template will decorate almost any site on WordPress. The structure of this template such is what it perfectly will be suitable for all, from the entertaining blog to a serious corporate site. Styles are included in a template for WooCommerce so you will be able to create without problems the catalog with shop on your site.
Many Shortcodes, Page Templates and Theme Options give you full control over your website. Manage your site like never before by using the countless powerful features that come packaged with all of our themes. We providing good tech support to all of our customers. With our dedicated support staff, you can be sure that you will have your blog up and running without a hitch no matter what your experience level.
Vetro – A Flat UI WordPress Theme
The Vetro WordPress theme is so clean, super flexible and has a fully responsive design (try resizing your browser). Built with HTML5 and CSS3 . A lot of thought and care were put into Vetro making it a pleasure to use. The Flat, modern design can be used for any type of website; business, corporate, portfolio, products, etc. The Vetro comes with built in Under Construction page.
xSquare – Responsive & Clean WordPress Template
xSquare wordpress template is a universal all-in-one solution for your business. It is packed with cool elements and features and it stands out from the crowd with its effectiveness. The theme is very easy to use and modify. There are mega popular sliders included as well as popular "Our team" plugin. The product page is different and interesting and it can be used in multiple ways. The services page can easily be set up so that it corresponds with your line of work. xSquare wordpress template comes with an in-built color picker so it is very easy to change the layout colors and to fit it to the design of your choice. Demo content is included in the download package and it can be easily implemented. There are 600+ Google fonts included in the xSquare wordpress template.
Rocket Board – Metro WordPress Theme
Rocket Board is a super awesome portfolio WordPress Theme with METRO style. You can set each thumbnail size as 1×1, 1×2, 2×1 or 2×2 easily. This theme also allow user to set specific colour on each metro box or just use the default colour from admin panel. You can also set the first state of metro box to show as colour box or show as feature image. This theme has 9 predefined background colours and 8 overlay patterns….or if you need to upload your own background image, it's just fine
Not only portfolio that be able to used in the Rocket Board but blog posts can be applied as well. Now you can feed your latest articles in super classy board easily Localization Supported (We already prepare .pot file, you just need to translate it to .mo files)
SEOWe reconstructed about how to use title. We use heading tag(H1,H2,h2,…) for title which is good practice for search engine site. Main contents are moved above sidebars(including both sidebar layout), now search engine will easily fine your main contents first. Also, 'alt' tag for images is supported. This is also help search engine to analyst your site easily.
Nemo – Metro Inspired WordPress Theme
Nemo is a metro inspired, full ajax site with a unique design. It's a dark, minimal yet powerful wordpress theme. Nemo is a perfect theme for designers, photographers or other artist to showcase their work in a professional way. It has a compatible layout with mobile devices. We have tested it in all major browsers in desktop and mobile devices Compatible on latest WordPress version 3.4.2
The Wetro – Creative WordPress Theme
The Wetro is Windows 8 Metro layout inspired HTML5&CSS3 theme. With it's powerful wordpress substructure you can manage everything. Most of the pages are built with drag and drop. The Wetro is the best solution for you or your company. You can easily educate you or your company with simple documentation and videos taken by us. It is so easy to manage pages with drag and drop content. It has 20 page elements which you can put whereever you want with just drag and drop.
The Wetro comes with 2 menu options. Default one is left side menu. The other one is top menu with completely different layout. You can easily switch between them with just a click.
Also, You can use our colorpicker tool to change color of The Wetro. You can either do it from admin panel or use WordPress' theme customizer to see it live.
The Wetro has responsive layout and you do not need to do anything to make it look good on mobile devices.It adjusts itself for the devices it's running on.
We believe that The Wetro will not let you down or your customer. It is flexible, easy to use and has powerful substructure.
Metro Magazine Responsive WordPress Theme
Metro Magazine is a clean and powerful metro inspired responsive magazine WordPress 3.5 ready theme designed specifically for magazine, news and blog sites. The theme is highly flexible, fully responsive and packed with awesome features. It is incredibly easy to use and ready to be up and running out of the box. Created using the latest HTML5 and CSS3 techniques.
Argo – Modern OnePage Metro UI WordPress Theme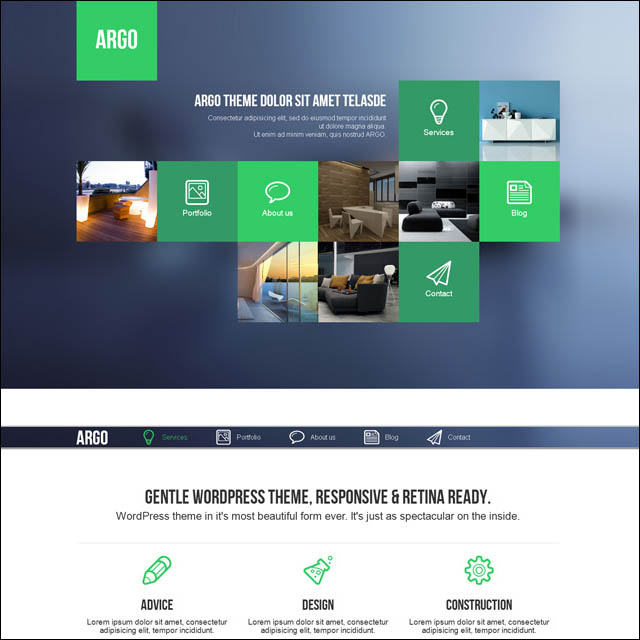 ARGO is a unique and creative WordPress Theme with clean and modern design. It is perfect choice for your corporate agency, creative studio or for portfolio. It can be customized easily to suit your wishes.
Syncro | Grid Powered WordPress
Welcome to Syncro! : An feature-rich, easy-to-use responsive WordPress theme built on the popular Super Skeleton theme system (with a community of over 10,000 users). It's designed for users, not geeks – all by a couple brothers in Southern California who just loves making rockin' WP themes for other folks. WP 3.5 Ready!
MetroStyle Responsive All Purpose WordPress Theme
We are glad to announce MetroStyle Responsive WordPress Theme! Original squared design and 1440 to 320 pixels keep this theme stay ahead of the curve. This is really something new! 3400+ users can't be wrong.
Bloggit – Responsive WordPress Blog,Magazine,News
Meet Bloggit – a responsive blog and magazine WordPress theme. Created for all types of information, inspiration, gossip, reviews, and more Bloggit is the perfect theme for any blog.
Responsive: Bloggit is a fully responsive theme and resizes to fit your browser or device. The theme has been tested on the iPhone, iTouch, iPad and iPad mini. You can test the "responsiveness" by resizing your browser but the best way is to actually take out your phone or tablet and test the theme there!
Breaking News Alert: Bloggit's brews alert area gives you the opportunity to draw readers' attention to a specific post, page, or promotion. The bright color and top of the page placement catches your eye.
AJAX Load More: The load more button on the homepage and category pages lets your reader click to show more posts until they've loaded everything. No refresh required. This makes it easier for users to find what they're looking for, and easily browse your content. Load more is optional, so you can always choose standard pagination if you'd prefer.
Double Homepage Sliders: Royal Slider and Flex Slider are both built into the homepage layout. A featured Royal Slider with unique transitions is both fun and functional. And an additional featured posts Flex Slider gives you the option to include a second set of featured posts. Maybe you want to focus on videos, galleries, or special promotions. Anything goes – simply select a category you want to show posts from! You can always disable one of the sliders if you want, but why would you want to?
RedStar – A Creative WordPress Theme
The RedStar WordPress theme is so clean, super flexible and has a fully responsive design (try resizing your browser). Built with HTML5 and CSS3 . A lot of thought and care were put into RedStar making it a pleasure to use. The Flat, modern design can be used for any type of website; business, corporate, portfolio, products, etc. The RedStar comes with built in Under Construction page.
I carefully handcrafted this template with a strong focus on typography, usability and overall user-experience. It's very quick to setup and easy to customize.
OneCommunity – BuddyPress Theme
OneCommunity theme is integrated with a BuddyPress plugin which lets users register on your site and start creating profiles, posting messages, making connections, creating and interacting in groups and much more. A social network in a box, build a social network for your company, school, sports team or niche community.
Metro Mobile Premium WordPress Mobile Template
Metro Mobile Template is just limited with your imagination. Create your own metro mobile tiles and own style. I was created my Metro Style Mobile Theme. Let's create your Metro style… (WordPress 3.5.x Tested!)
Novelti – Responsive Magazine WordPress Theme
Novelti is a Bold News Magazine WordPress Theme. Whether you want to give your blog a new cool and modern look or craving for awesome usability, look no further novelti is the theme for YOU. Great User Experience, simple way to present your content in an accessible, logical and beautiful manner are some of features that will make this theme stand from a crowd.
Octavus Responsive Portfolio WP Theme
Responsive HTML5/CSS3 design
Retina Ready
Unlimited Colors (integrated with WordPress Builtin Theme Customizer)
1-Click Demo Content Import
Automatic Theme Updates using built-in WordPress Update feature
Premium plugins and icons – worth 93$
Glyphicons Pro included (580 + Icons) — 59$ worth icons (icons may be used only in our theme)
$15 worth Revolution slider included
$19 worth Searchable 3 Level Accordion and jQuery Drilldown Menu
Nivo Slider and Flexslider (support video,any html content)
600+ Google Fonts
Edge – Professional Corporate and Portfolio WP
Edge is a WordPress theme designed with corporate businesses in mind. The theme is also well suited for online portfolios and blogs.
Touch Responsive & Bootstrap WordPress Theme
Touch Twitter Bootstrap – Responsive WP Theme. Unlimited combinations on any page. Very powerful theme which suits both, creative and business users with no programming background, as well as advanced developers. The Theme is built on top of the great Themeple Framework. It comes with a hundreds of options so you can modify, styling, colors, layout and fonts directly from within the Theme Options. Build your own skin and pages right out from your Page Builder and Theme Options. Font, background and color options as well as the dynamic template builder will help you create the Website you need in no time. In addition to the global options you can set unique styling options for each entry.
Metrofy WP
Black Pearl – Responsive WordPress Theme
Specially designed based on the Metro Design Language with unlimited tile layouts.
2 in 1 – Works as both Multi-Page and One-Page
This template was designed for creating portfolios, agency & consulting firm websites and corporate websites.
The unique and unlimited Tiles Layouts will help you present your content beautifully, be it your line of products or services or portfolio items.
Updates will be released frequently when issues are found or reported. Update and Change-Log is available at the bottom of this page.
Matrix – Responsive WordPress Theme
Matrix is a responsive, intuitive tile-based theme which is inspired by Metro design. The tiles can be made 'live' to display MORE / INFOrmation on the screen without occupying more space.
This WordPress theme comes with 10 pre-defined colours and an advanced but easy-to-use admin panel. It is highly customizable to suit the needs of every user. Unlike conventional designs, each tile can be customized to create any design you can imagine!
All the files are coded with valid HTML5 tags and CSS3, and are Search Engine Optimized (SEO) using valid HTML5 semantic tags for each section and are written in decreasing order of importance down the page. For instance, the title and content of an article comes before the comments and sidebar within a HTML file, and titles are enclosed in h1 tags to signify their importance.
Currently, I am accepting any requests for features and new icons for tiles, so do not hesitate to contact me if you require any help.
MetroPix – Responsive Multipurpose WordPress Theme
Metropix is a great multipurpose WordPress theme with a clean metro design. The theme's beautiful layout and stunning galleries make it perfect for a variety of sites including blogs, portfolios, business, corporate and more.
Responsive: Metropix is fully responsive! The theme has been designed to look great on all types of mobile devices and browser. Test it out on your iPad or iPhone to see for yourself.
Modern Metro – Responsive WordPress Theme
Centre Responsive Metro WordPress Theme
Centre is a great blog WordPress theme created with a metro design aesthetic. With lots of clean lines, bold colors, and useful features Centre is the perfect fit for professional and novice bloggers alike.
Dark & Light Color Schemes: Make your blog your own with two included color schemes. Choose from the deep dark default or the light and airy color scheme. Pick the one that works best for you and suits your own personal style! – Test them out on the demo under the "skins" link!
Responsive: Centre is a fully responsive theme and resizes to fit your browser or device. The theme has been tested on the iPhone, iTouch, iPad and iPad mini. You can test the "responsiveness" by resizing your browser but the best way is to actually take out your phone or tablet and test the theme there!
Homepage Introduction: Centre features a fun introduction section on the homepage. This is a great way to give readers a quick overview about yourself or your site. It's also the perfect place to insert some social icons and collect some more followers on any social sites you are actively a part of.
Acid – Unique Horizontal Blog and Portfolio Theme
Horizontal Scroll
Acid shines with it's horizontal scroll and that's why we took special care to make sure it is smooth and easy to use. We made sure to test it on different screen sizes and tailored it to each of them to be sure that your users have it easy and natural to navigate.
One-Page Layout
You have maximum control over your One Page Layout. You'll be able to easily control the order of your pages, each page has it's own set of colors, and you can specify widths for each page! Which is supercool, because you can only really do that in a horizontally scrolling design!
Check out this video tutorial and see for yourself how easy it is.
Unlimited Color Options!
Use a simple color picker (built right in) to customize header, font, footer, border colors. But don't worry, we're not going to make you design your own site from ground zero. You'll pick a few colors, and we'll repeat them all over the place for you. (pssst. – You can see the color options by clicking on "Screenshots" right next to the "Live Preview")
K-BOOM – Events & Music Responsive WordPress Theme
PROFESSIONALISM:
K-BOOM is one of the powerful Music & Events WordPress Theme, it is meant to serve for Music Projects, Events, Portfolio or just for Blogging. It is a theme with ultra responsive layout adapting perfectly and allowing you to visit it from any devices you want. Being created with user experience in mind our customers will be more happy and with few click's your theme is installed.
MODERN DESIGN:
K-BOOM is a metro inspired, with a unique design predominantly dark color, it is a new trend well structured aiming to breath elegance, powerful & style. Everything is designed in the manner of giving a unique experience to the user instilling a good feeling and making it lovingly come back.
FLEXIBILITY:
It comes with an smart Admin Options Panel with tons of options allowing you to set, display or remove any item from the page, or create your own using features such as: shortcodes, widgets, plugins etc. This theme come with carefully chosen 25 predefined color schemes allowing you to fit on your taste and made your theme more unique.
SEO:
(Search Engine Optimization), This theme is build on search engine optimization standards and assure you the best SEO development practices, that contribute at your ranking on search engines.
Everest – Premium WordPress Theme
It's a great question and apart from the obvious answer that you should love the look, feel and functionality of my product and appreciate the well organized file structure, helpful commented code, and pixel perfect design, it's that I stand behind my products.
I have one of the largest portfolio collections on ThemeForest, I'm an Elite author which means I've sold and supported my products to thousands of buyers, and I've been member here for 5 years now – I'm not going anywhere and neither are my products.
Increase – Premium Business WordPress Theme
Increase WordPress theme is main feature – is an ability to change color easily precisely for any element. Great customization possibilities are offered by the new version of cmsmasters' custom wordpress admin panel. The 1.2.1 admin version features all the functionality of 1.2 version, but also includes more customization options. In fact, your wordpress website can be easily turned into a completely custom-designed website, and there is no need to deal with any code for this. All the customization is playfully easy, reminds more of a game rather than website setup.
Diablo – Eye-candy Minimal Responsive WP Theme
Thank you for choosing CosmoThemes and purchasing one of our Premium WordPress Themes – your choice is greatly appreciated!
Diablo is an eye-candy minimal and responsive WordPress theme build to power personal blogs / magazines, concerts or night clubs, complex photography or images related sites.
Sneakpeek Creative Portfolio WordPress Theme
Sneakpeek is an exclusive minimal, clean and modern WordPress theme with a unique masonry and grid layout that focuses mainly on showcasing portfolios for artists, web designers, photographers and illustrators while provides a warm and pleasurable atmosphere for visitors and your potential clients.
Success – WordPress Bootstrap Theme
Powerful WordPress Theme designed in a clean and minimalistic style. This Theme is very flexible, easy for customizing and well documented, approaches for personal and professional use. Success has been coded in on BootStrap framework. It has a solid flexible responsive layout. Follow me to be notified for future updates!
Blogbold – Responsive Metro Blogmagnews Theme
Blogbold is Responsive WordPress theme suite for blog, magazine and news web. This theme allow you to create blog, magazine and news with unlimited layout.
With layout builder and module, create your own layout. This theme came with 1 default layout and 3 customize layout template for frontpage. You can easily to modify the templates, or create your own layout. Import the XML file, will make you easier to build your web.
Developed base on Bootstrap with easy to use option panel and powerfull module system by shortcode, will make end user easier to develope their own web.
Metro Facebook Timeline WordPress Template
This template is better to use for facebook page owners. Install Metro Facebook and create your own facebook page tab. Change tiles and create your own style. Control with WordPress Admin Panel. Easy.
DETAILED INSTRUCTION ON HELP DOCUMENTS HOW TO INSTALL FACEBOOK PAGE WITHOUT SSL CERTIFICATE! SAVE YOUR MONEY ! AND ALTERNATE MODEL INSTALL WITH SSL ADDED IN HELP DOCUMENT (You need to have SSL certificate to create Facebook tab)
FacePress – Community Content Sharing
FacePress represents a community-builder theme with multiple skins and layouts suitable for different needs:
Community builder,
Portfolios,
Image gallery,
Content-sharing with front-end uploading,
Classic blog
Combination of all content types.
Good Bones: The WP SandBox Theme
Good Bones is a SandBox Theme for WordPress. Over 3 months in the making, we've re-coded our entire "Super Skeleton" framework from the ground up to leverage the best, cleanest, fastest features that WordPress has to offer.
Metro.press – Expressive WordPress Theme
Metro.press is a responsive premium WordPress Theme inspired by metro design. Metro.press is powered by Warp Framework and Widgetkit, it is fully localized/internationalized, SEO friendly, and has been tested in all major browsers. Metro.press comes with nine expressive colors and style variations. Metro.press is fully responsive and suitable for big and small screens.
Appstract – Portfolio & Photography Theme
Appstract is a WordPress theme made for creatives and photograhpers who wish to exhibit their work in a clean and professional way. It features a flexible panel layout on the homepage, which lets you showcase a variety of content with ease. It also comes with multiple templates for the portfolio and blog, which allows you to further customize your site.
This theme is built on top of our custom framework, giving it excellent performance and coming with many awesome features. You can customize its appearance through its extensive options panel, being able to change its colors, typefaces, and overall layout.
Aeolus – Corporate Minimalist WordPress Theme
Aeolus is a WordPress theme specially designed based on the Metro design style, high contrast and flat colors are some of its great features. Aeolus is very suitable for portfolio, business, corporate and any kind of websites With New Features of WordPress 3.5.x, Aeolus has been coded to improve capability of the WordPresss 3.5.x features.
Parkour | Unique Horizontal Layout With Options
Parkour is a unique, horizontally built, fully responsive theme for WordPress.
Press.