Here we have the best free and premium fonts for commercial use which can make your design look elegant
Typography plays an important role in the field of design, the usage of font should be there in order to make your deign look good here we have collected best free and premium high quality fonts which will be excellent collection in your design
Turning
Turning is a futuristic Font.
It's useful for any design project.
Good for Logos & Headlines.
Stroke 7 Icon Free Font Set
This is a complete set of 170 thin stroke icons inspired by iOS 7. Those retina ready icons have a very modern style that will beautifully complement any project.
Slye Typeface
Slye is a font / typeface that inspired from classic lettering letters, this will be a great addition for your vintage themed font / typeface collections.
KAIJU (Free Font)
KAIJU is a sans serif typeface that comes in multiple weights (Regular & Bold). Its simplicity makes it a very legible display font, perfect for editorials. The equal emphasis on thick and thin allows for both bold and subtle aesthetics.
This font is free for personal use only. Any images used as backdrops are for example purposes only and belong to their respective owners.
Typography: Font "Aurora"
Here's the first font I tried to realize. Aurora is a font inspired from Si-Fi movies and the world of video gaming.
This font can be used for titles and typography works, about technology, industry, furutistic subjects etc.
I hope that you'll enjoy it!
GENT (Free Typeface)
Gent is a free bold italic typeface designed by French Toast. Gent typeface is perfect for big Bold Headlines and displays that need a slightly modern look.
Master
Master is a Stylish Sans Serif Font. It is useful for any design project.
Available in Regular, Italic, Bold & Bold Italic version. Including all special characters.
Sequoia Stained Glass Handset
Stained-glass-style stencil caps based on found typography in the Loring Park (Minneapolis) area. Interesting how the constraints of the stained glass format seem to give it a constructivist feel
Vanadio
ITEM DESCRIPTION
This package contains a pixel perfect, modern-futuristic, dynamic, sans-serif TTF-TRUE TYPE FONT called VANADIO. It's perfect for any purpose (Logo Design, Flyers, Titling, and many more).
It contains all the Basic Latin Glyphs and the most common Extended Latin Glyphs (e.g.: accented chars).
Contemporary Geometric Sans Serif
Back in the days when he was a student, Portuguese graphic and type designer Natanael Gama started to play with glyphs — as a way to discover typography.
Doodling around, he created Exo, a font which he released for free in a Kickstarter project.
The project turned out to be quite successful.
Exo became so popular that Natanael did a complete redesign.
Chuck Noon Full
Chuck Noon is a heavy & block font/typeface inspired by old school advertising letters. Available in uppercase, lowercase, numerals, punctuations & other characters
Dancing Script OT Free Handwirtten Font
Alt Zombie Font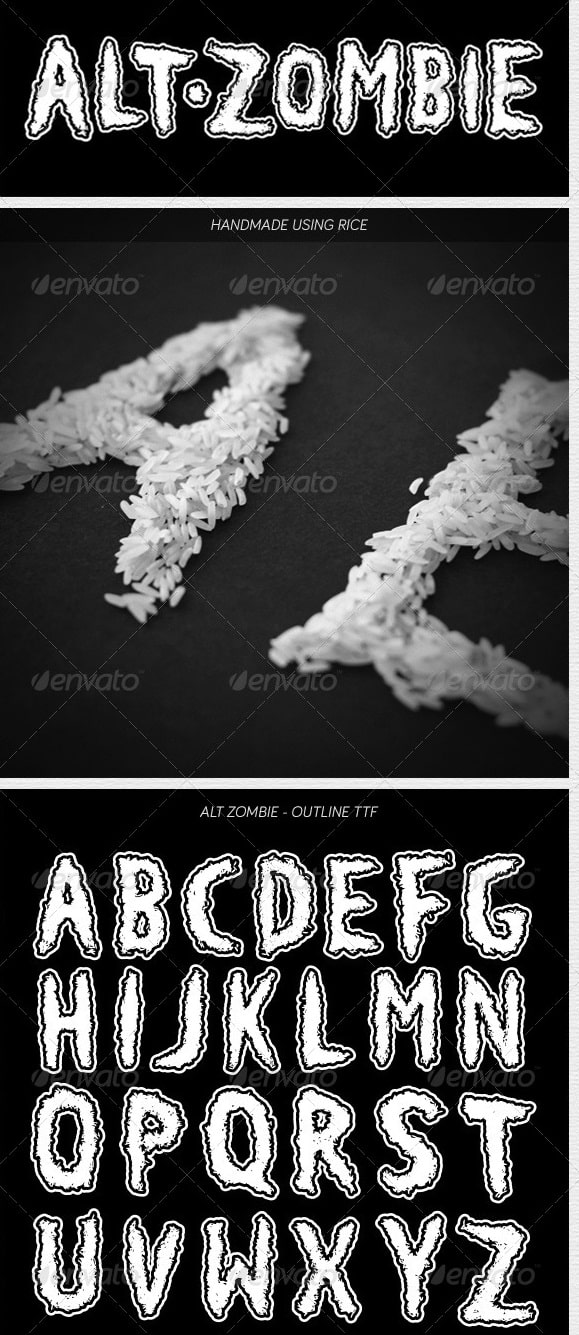 Alt Zombie Font – A professionally handmade unique grunge font perfect for: poster design, headings, band posters, cd covers, any sort of print media when a bold typeface is required.
Included in the download is Alt Zombie Regular.ttf & Alt Zombie Outline.ttf
Kelson Sans
SIFONN FONT (free weights)
Sifonn is a display typeface consisting in 3 weights, a Pro version with more than 900 glyphs, with a large set of ligatures, titling alternates, fractions, catch words and multiple opentype features. It also comes with a Basic and Basic Outline version with the standard char set (360 glyphs), both available for free download.
Radisson Font
Radisson is a sketchy, artistic font, designed to give your work a fresh and creative feel, exclusive to GraphicRiver! Contains a 212 glyphs!
Included: – Radisson-bold – Radisson-bold-italic – Radisson-regular – Radisson-regular-italic
212 glyphs
.ttf file included
Easy to install
Vector created
All characters, numbers & letters.
Ostrich Sans Inline Free Font

So I've slowly been "fixing" some "broken" stuff in my "fonts." Ostrich Sans was flawed from the start but I'm happy to release a new style that is a bit more polished. Unlike Ostrich Sans Round this one is free.
It still isn't perfect, but perhaps the open source community can help complete things.
Bonota Premium Font
Bonota is a creative font for flyers, decorations, posters, brochures, logo design, and many more. This package contains a TTF (True Type Font) Regular file.
PARADOX
Paradox is a futuristic Font.
It's useful for any design project. Good for Logos & Headlines.
Exclusive to Graphic River.
Plumbago Font
Unique font for create Logo, title, poster, heading, … .ttf file included Easy to install. Vector created It's one awesome font!
Kinetic
Kinetic is a stylish futuristic font.
It's useful for any design project.
Good for Logos & Headlines.
Crafty DIY Style Font
(Made to look best at larger sizes such as headlines and titles)
I created this arts & crafts themed font for a project I was working on. It has the appearance of being hand crafted with scissors and scrap paper or had drawn in a style that many kids are taught when first learning to write in school.
Three weights are included.
The differences are subtle and most notable at larger sizes:
Normal: Clean lines and sharp path corners.
Rougher: Rough, messier lines and path shapes.
Softer: Clean lines and slightly rounded path corners.
Anjelica Ultralight Font
INFO
Anjelica is light, stylish, beautiful sans serif font,Applies to the logo or product names.
Recommended for Newspaper, Magazine, Book, Cosmetic use.
Bahn Pro Family
Bahn Pro FAMILY is a display font inspired by the old austrian bahn signs.
Rigorous Severe Alpine
Vicasso Font
Vicasso is an elegant modern font, that comes with unique characteristics and high quality details.
Overview:
Unique style
High quality details
True type font (TTF).
Suits most design needs
Included styles:
Regular
Italic
Usage:
Because of its high quality details and visual appealing Vicasso font is suitable for most design needs, the font is best used in large font sizes (such as in advertisements, labels, brochures, posters.. etc) making it a perfect choice for designers. Installation is very easy, just follow instructions in readme file included with the download package.
Qlaire; Clean, Modern, Fresh Font Family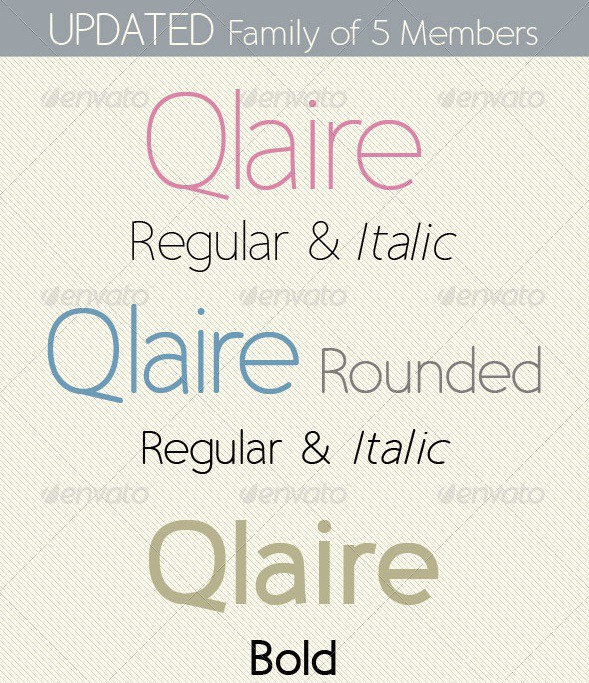 Exclusive to Graphic River, the family of Qlaire has grown to include Qlaire Rounded, regular and Italic, and Qlaire BOLD, all of them based on the original monolinear typeface. Qlaire regular (included in this pack) was featured in Advanced Photoshop magazine July 2013. It was very well received here with a 5 star rating, and had excellent feedback on its use in a webfont kit.
See the 5 SCREENSHOTS for a full impression of how these family members work together. Each one is an inidivdual, not simply a 'transformed' clone of the mother. Qlaire BOLD is a little more expanded; Qlaire Rounded Italic lies at a slightly steeper angle than Qlaire Regular Italic. Together these font brothers and sisters provide a very useful and versatile working set.
Qwinkwell; Old Style handwritten Pen & Ink
Exclusive to Graphic River, this font was made with an old dipping pen and ink, written by hand. Most of the quirky little irregularities have been retained to give it an authentic hand made character. All the most common foreign glyphs are included, together with a range of currency symbols, quote marks, and punctuation. As you can see from the Screenshot, this lettering works well in speech text where there is a lot of punctuation. If there are any additional glyphs you require i shall be happy to add them.
Ovoduro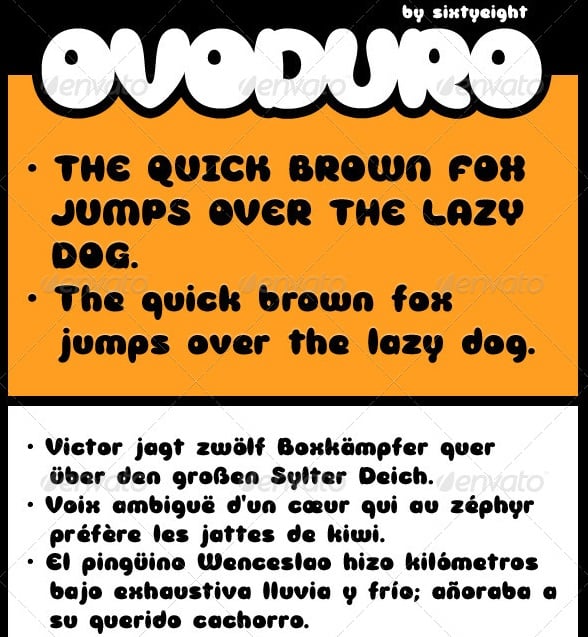 Ovoduro is a plump & funny typeface, ideal for posters, logo designs, comic titles, party invitations and all sort of cheerful uses.
Erora
Erora
Arik
Arik is a sans-serif typeface of 3 different weights including italics. Its simplistic features make Arik friendly and approachable to any audience. OTF file.
Novatny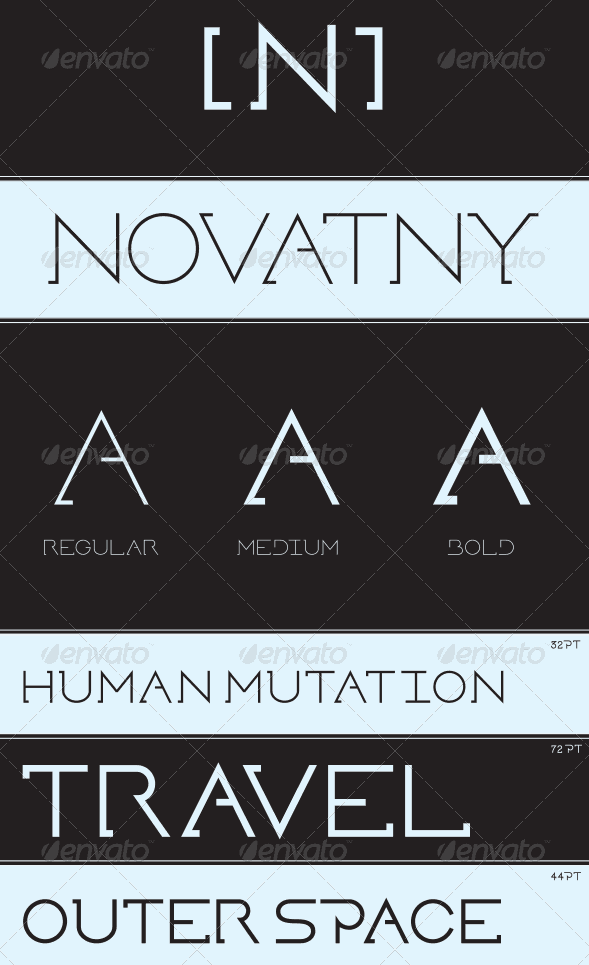 Novatny is a geometric typeface, which objective is that of recreating a style that can create a trend in the future. TTF file.
The Elementarity
The Elementarity
The Elementarity is a typeface inspired by the combined aesthetics of timeless geometric typefaces with contemporary influences. Merged to create a sophisticated contemporary look that is perfect for display Headlines, Posters, Logo, Decorations, Flyers, Titling & More. TTF (TRUE TYPE FONT).
Font contains
Uppercase
Two metric styles
Numbers
Kinematic Font
• Kinematic Regular • Kinematic Italic
Kinematic Font – minimalist Sans-Serif font perfect for titles or any modern styled projects. This font contains more than 225 glyphs at an optimum size of 14pt – larger is better.
Torn
Open Type and True Type font files
Uppercase and lowercase letters, numbers, accentuated glyphs and many symbols
Blaze
Blaze is a light font, good for formal letters or whatever. It has OTF and TTF.
Quarto Font
Quarto is a Stylish, Sans serif Font. It's useful for any project.
Available in Regular, Italic, Bold & Bold Italic version. Including all special characters.
Qarross Modern Serif with Alternates
Exclusive to Graphic River – Qarross (and its selection of Alternates) is a clean and modern monolinear serif typeface with just enough quirkiness to make it stand out from the crowd. Choose a few of the alternate glyphs, which have been designed with creativity and uniqueness in mind, for headlines or to give a completely different character to your copy.
Bar Cap
'Bar Cap' font is a font inspired by signwriter and paint signs. The font contain only the 26 cap letters of the alphabet. Perfect for title, flyers and more.
Qontreaux: Bold Elegant Modern Typeface
This is the bold version of Qontreau which has been so well received here on Graphic River, thank you. Qontreaux has all the same glyphs as its regular counterpart, but slightly altered where necessary for aesthetics.
Be sure to explore the Character Map before choosing your lower case; because of the various choices of alternates they do not exactly match with the keyboard.
AS Scripty
Traditional cursive lettering. Use this flowing cursive wherever eloquence or delicacy is required.
Blackbelt Font
Blackbelt is a Stylish, futuristic Font. It is useful for any project.
Available in Regular, Bold & Italic version. Including all special characters.
Fine tune your point size and spacing to join or separate specific characters
Pribor – Clean Lo-Fi Stencil Font With Cyrillic
Pribor – Clean Lo-Fi Stencil Font With Cyrillic
Story Font
Story is a nice handwritten font.
Available in Regular, Bold and Italic version.
Including all special characters.
Qut&Paste: Paper Collage Cutout Typeface
Exclusive to Graphic River, Qut & Paste is a font that has been made from real cutout shapes using small scissors and black card. It has an authentic hand-crafted character and can be styled easily using paper patterns and backgrounds to look like real paper collage lettering.
There are two versions of the font so you can use alternate glyphs to give a more natural look to your text, but only the main file contains all the foreign combination letters. See the screenshots for more details.
Radius Font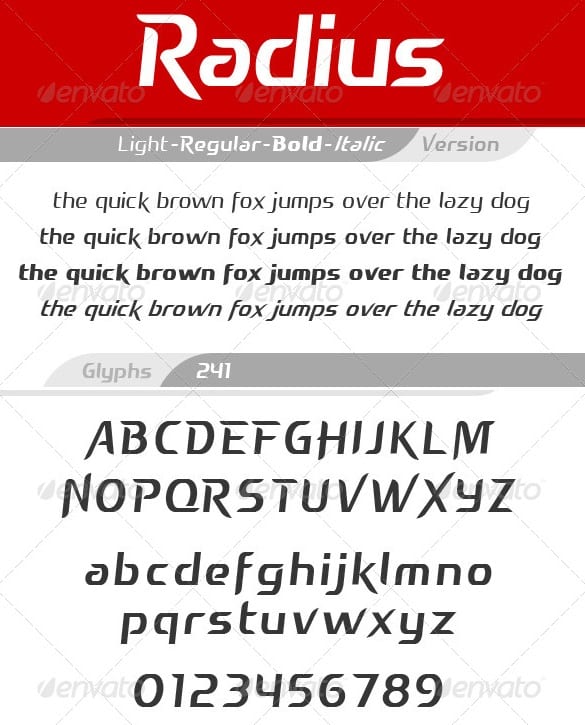 Radius is a Stylish, Techno Font. It is useful for any project.
Available in Regular, Bold, Italic & Light version. Including all special characters.
Andromeda
I prefer generally clean and minimal fonts. For years I've been using several clean, single line fonts but there was always something missing. Sometimes the problem was font weight, sometimes additional styling. So I created Andromeda characters mostly by one line and least styling possible to get the perfect minimal look.
Andromeda is perfect for almost any purpose of graphic design; titles, futuristic projects, sci-fi poster and flyers, logo design, typographical compositions, neon effects, 3d texts, etc.
GrouchoCaps – Extra Black
All-Caps Truetype font Designed to be used in big headlines, ideal for poster / flyer design.
School Type Lettering – Chalkboard Font
A simple handwritten chalkboard font with EXTRA sketch arrows, boxes and circles, suited to educational projects, children's school work, posters and flyers about school, college, training or presentations. It is easy to read and has all the common foreign glyphs. Available only here on Graphic River.
Golowar
Golowar
Perfect for titles, or any design.
The basic letters, numerals, punctuation and common foreign accents are included as seen in the preview. If you require any extras after purchase, i will be happy to update.
Scrawler TrueType Font
Scrawler handmade font contain caps letters and numbers, in bold style :
The font is based on geometric sans-serif typeface Futura. File includes TrueType file formats, as well as installation instructions.
Faus Sans; Regular, Bold & Black
This is a modern and minimalism rounded square font. It is great for titles and subtitles in advertisements and posters, but also great for Logos.
Ibu Ibu
Latin and Cyrillyc True type Sans serif font, Ibu Ibu is designed to use letters when writing short and flashy texts. Except Latin, you can use letters of the Cyrillic alphabet. TTF file.
Marker Font
MarkerFont – Grunge Handwritten marker style True Type Font. Set of 176 characters.
Contains all uppercase alphabets. (A-Z) All numerals (0-9) Special characters with delimiters and symbols, along with a bullet. You can use this font in brochure designs, posters, promotional stuffs, and anything that are in needed of marker grunge feel.
Qwacko Font; Hand-drawn Graffiti Type
Exclusive to GraphicRiver, here is Qwacko, a slightly mad CAPS typeface with an artistic, hand-drawn graffiti character. Superimpose the different versions of letters for a scratchy sketchy feel to your text. Numbers and basic punctuation included. If you need any specific characters added, just send me an email from my profile page.
Qudos: Clean & Modern, Avant Garde Type
EXCLUSIVE to Graphic River ; 2 x .ttf files that work together by exchanging any of the upper and lower case letters. Qudos CAPS and Qudos Alternate – a very clean and modern, sophisticated font useful for any project where you want elegance with a slightly uncommon style. You can substitute any of the 4 glyph choices of each glyph to get a unique artistic result. Fine tune your point size and spacing to join or separate specific characters. The preview can give only a limited idea of the many ways to combine the characters.
AS Vardo
Hairline display fonts are elegant and subtle with touch of luxury. They are the Champagne of type. AS Vardo is a classy typeface best suitable for magazines, cosmetics packaging, advertising or any kind of fine and sensitive design.
Soft Round Feminine Font – Qarolina
When you need a generously rounded shapely feminine font for your project. Hand written script with just the right amount of texture in the outlines. There are a few alternates as shown in the preview image.
All the fonts in my portfolio are exclusive to Graphic River. If you have any comments or constructive criticism i am happy to find them, thank you.
Boldonia Regular BH
Boldonia Regular BH – TTF
Boldonia Regular BH font is a geometric typeface, elegant & strong, retro-inspired but modern and minimalist, designed to work well at medium-to-large size, ideal for posters/flyers, headlines, logotypes.
Zip file includes only font not preview images.
Photo is only for preview mode so you can see how this font looks like on modern poster.