Photo Album Templates are mainly used to create wedding and family gallery albums, portfolios, magazines etc. You can download source files just drop in your own images and texts, and it's ready for print
Here we have collected the best photo album templates around the web, Which we hand-select each design from hundreds of submissions and we guarantee each file is ready to customize and print. The albums can be used for wedding, modeling portfolio, to showcase your product if you are running a business like a furniture, home-based equipment, travel books etc. which are fully editable, easy to customize and has a professional design.
Modern Photo Album 03
Creative Photographer Photo Album
Auto-update page number – Indesign IDML file – for older versions – Print Ready – CMYK – 296mm x 209mm + Bleed – Free fonts used
Photographer Photo Album Vol. 2
Travel Photo Album Catlog. Square Template
Photo album catalog assumes multi-purpose use. Except for a photo about travel the album can be used also as the catalog of musical disks or movies. Album also can be used as a catalog of garden flowers (plants) or as a book of culinary recipes.
Family Photo Album for Indesign
Wedding Photo Album
Design in PSD format file
10×10 inches bleed in 0.25 inch at each side
10 pages with different layouts
Includes pattern file for overlay
Modern Photo Album 02
Alexandra Wedding Photo Album
Victoria Wedding Photo Album
Photo Album vol. 5 – Landscape InDesign Template
Exclusive Photography Portfolio Album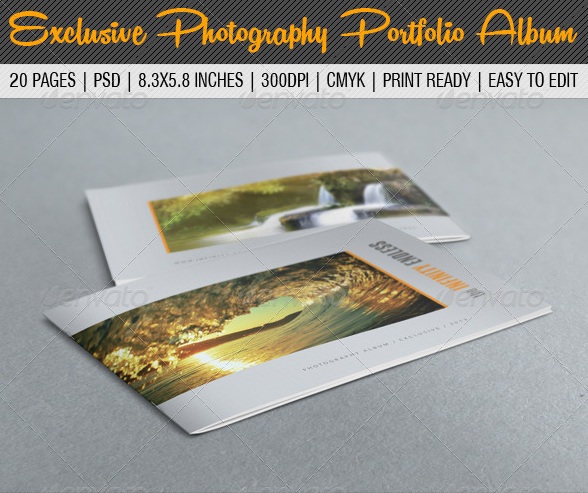 Photo Album Vol. 4 – Portrait InDesign Template
Photo Album vol. 3 – InDesign Template
AtoZ Album
Wedding Album Romantica
Photoshop Romantic wedding album of 16 pages and covers. Possible to combine the pages to your liking. Easy editing of layers with photos and text.
Emily Photo Album
Ur Photo Album
This template is perfect for designers, photographers or graphic artist!
This professional album will reflect the high standard of your work. Its very easy to add your own work and text.
Modern Yearbook Template
Photo Album Template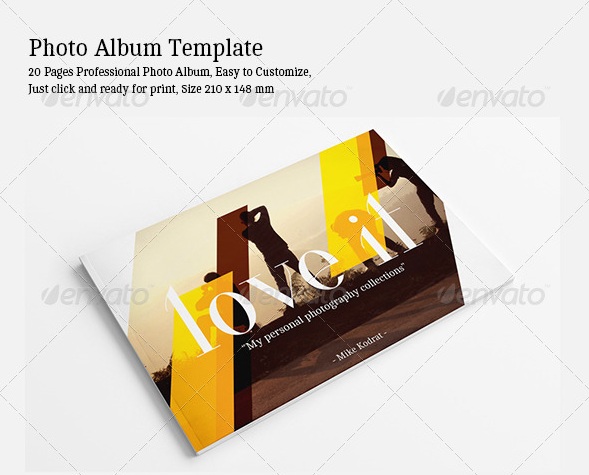 Professional, clean and modern album. Just drop in your own images and texts.
Baby Girl Photo Album
Fashionable Photographer Photo Album
Fashionable Professional Photographer Album / Portfolio 16+ pages clean & fashionable photographer  Album Templates for multipurpose Photograph Presentation & portfolio, quality design, Clean, professional and modern design concept.
Wedding Album with Rounded Frames
WProactive Photo Album Catalogue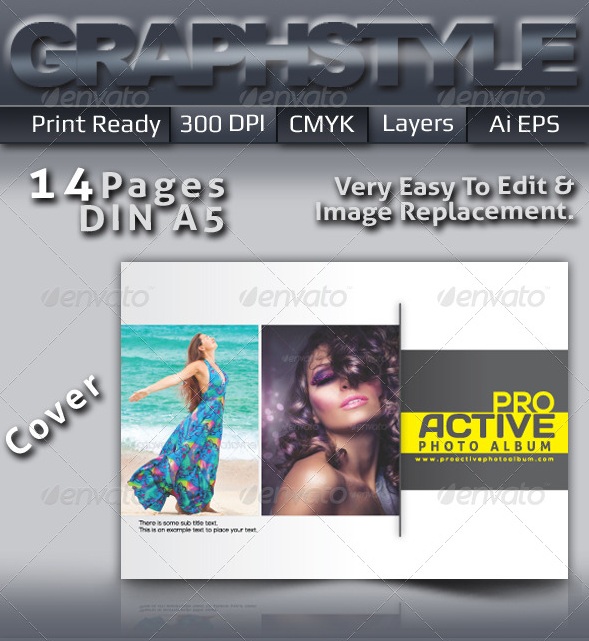 419×147mm print dimension with Bleed + Trim Mark, Well Layered Organised (EPS), 300DPI, CMYK, Print ready & Fully Editable, Text/fonts/colors editable, Very Easy to Customise & replace the model image.
FolioBlue – Album Photo
300 DPI, CMYK
Included. INDD file for InDesign CS6 and, IDML file for CS4 and later
Separated Layers (text, graphics, photos…)
Easy to edit
14 Pages
A4 Size.
Elegant Wedding Album
Modern Photo Album
112 Page Wedding Book Template
Professional, clean and modern 112-page wedding book with the extra cover file. The template already has text and images in place, all you need to do is drop in your own pictures and texts, and it's ready for print. Or use it as a professional online PDF or email attachment.
This template can serve multiple purposes. It works great for a wedding book but you can also present it as a christening, birthday or your child's photo book. Or something completely different.
Everything you see is editable right in Indesign. All colors can easily be changed in one location. All texts are set and you can download fonts from the link provided.
You can easily re-arrange pages and create more spreads based on the existing ones, to make this book your own.
Photo Album – Landscape Template
Universal Album
Britebook – Photo Album or Folio Template
Wedding Vintage Album
Modern Photo Album
Simple and modern album. It is easy to customize and edit. You can use pictures variation you want, black&white or color pictures. Also, you can use it for every genre of album – animals, mode, products, food etc.
Design Photo Album Template
This professional album will reflect the high standard of your work. It's very easy to add your own work and text. Also, if you want to make it longer, you can easily add more pages…
Photographer Portfolio / Album
Wedding Photo Album
Styles Photo Albums
Kapture Photography Album / Brochure
This multi purpose photography album can be used by any photographer or amateur who wants to show off their work. It can also be used as a company brochure.
Clean Modern Photo Album
Square Photo Album & Brochure
Perfect for the album, magazine or brochure,
You can generate background from your image with one click! (Smart Objects included),
12 pages (PSD Files),
300dpi Print Ready,
Font used into the HELP file,
All photos are not included,
The well-organized project,
Easy to customize.
Sport Photography Album Photo
Exphose Album Photo
Wedding Album
Glad to present you this 16 custom pages album. You can easily modify this album as much as you like to meet your personal needs. This album can be used not only for the wedding, it will perfectly feet birthday album, fun album etc. As I mention before this is 16 pages album but due to this file is fully layered you can build as many pages you need simply moving objects around. I hope you will have a lot of fun playing around with this file.
Minimalist Album Photo Template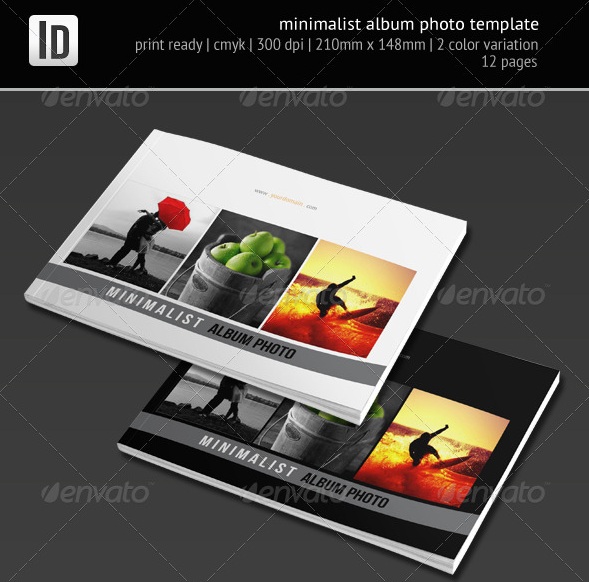 Clean And Simple Photo Album
Clean and simple album
This simple package includes 8 Highly organized .psd files to make a complete photo portfolio…. If you are a photographer or a model… this may be a nice selection for your need… It's simple, and attractive…… enough space to provide your information…..
Dreams Clean Photo Album InDesign Templates
16+ pages clean & artistic Photo Album Templates for multipurpose Photograph Presentation & Catalogue, quality design, Clean, professional and modern design concept.
Snappa – Photo Album or Folio Template
Photo Album – A4 Landscape Template
Bifold Brochure | Volume 11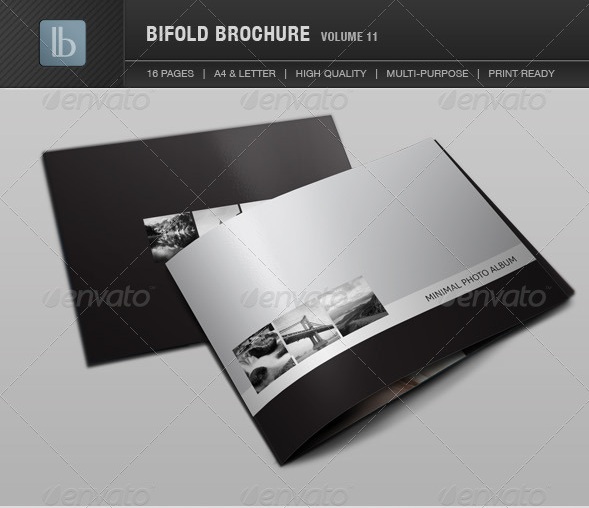 This is a beautiful way to show off your hard work! This is perfect for all photographers, designers and anyone who has digital work to present in a clean, modern way. This carefully handcrafted album is extremely versatile and comes in 2 sizes: A4 and Letter, and has 2 cover options. Created with InDesign, 16 pages, Print Ready, 300dpi, CMYK with bleeds. Character styles and layers were used so its very easy to update text, graphics and colors. Simply change out the interior images and copy and you're done!
The Traveller – Photo Album
Simple Album Photography Portfolio
Book & Brochure – Focus Series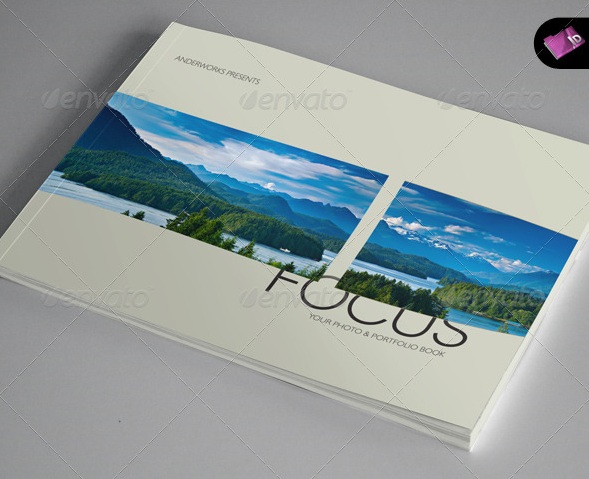 My First Photo Album
Sleek Photo Album Portfolio
A high quality, professional album or portfolio template. Packed full of interesting and eye-catching page layouts, designed to make your photographs or portfolio photos really stand out.
Each layout includes multiple photo areas with a variety of sizes. Utilize these to show either a broad range of photos or pull out a picture or design details and close-ups. Each page has a text area set up to describe the project or photo.
The document also includes a timeline photo spread, to show portfolio progression and content and welcome page. All page elements can easily be mixed and matched to create your own great layouts.
Wedding Photo Album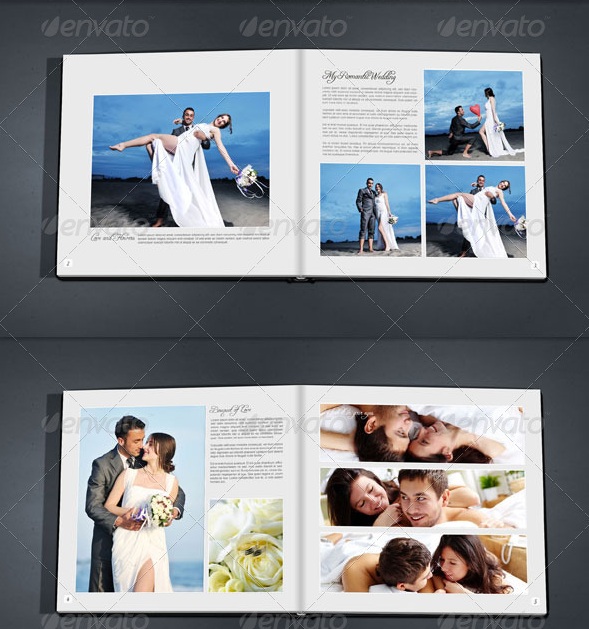 Wedding Album is a file specially designed to capture those unforgettable memories of those couples who want beautiful ties unite and live together, with this beautiful and elegant design can record those memories and finally get your hands on a beautiful album of your wedding.
Professional Photobook Template InDesign
Photobook professional is suitable for freelance photographer or designer. Drop in your own text and work and you're ready to go. Of course, this template can easily serve multiple purposes. You could turn it into a brochure,  album, wedding album, printed portfolio, art book or other editorial design.
Font information included in a help file, if you like the font I've used you can download them for free or just replace with your own.
Square Albums Bundle
Clean Modern Photo Album
Two projects: 11″ x 11″ and "11×7" with 3mm bleed,
16 PSD files,
CMYK – 300dpi,
Print Ready.
Wedding Photo Album or Portfolio
Professional and clean Wedding Poto Album or Portfolio. Fully layered and very easy to customize. Suitable for any other businesses.
Smart Objects ( Help! )
CMYK Colors
300DPI
Print Ready
20x Pages
8.2×5.8″(A5)
Wedding Album Vol.2
This is an elegant, stylish and prints ready 18 pages with back and front cover wedding album. You can use this album not only for the wedding but also for any occasions even for your personal use. It's really easy to customize this file due to all elements are layered and fully editable. Hope you will have fun customizing this file like I have fun creating it for you. All files are 100% vector and ready for print.
Family Photo Album for Indesign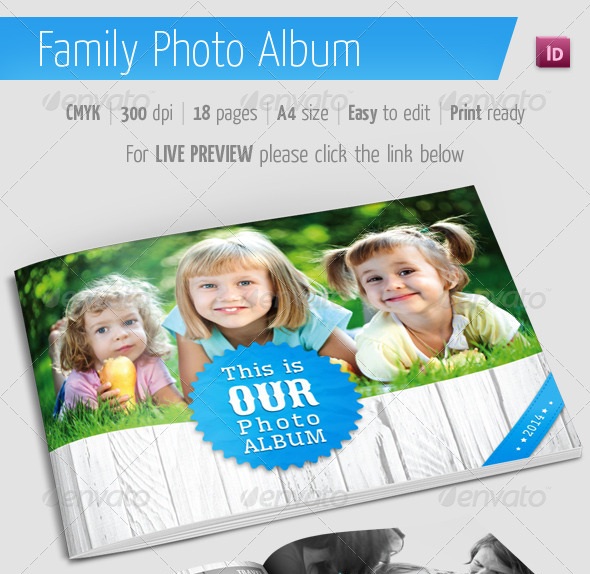 Place your own family pictures to the photo frames and your photo album is ready to print.
Features:
A4 size (297×210 mm / 11.7×8.3 inch)
Easy picture change in Indesign
Editable texts
Vectos based elements except for the background image (feel free to modify)
Auto page number
3 mm bleed, ready to print
INDD and IDML files
Elegant Wedding Photo Album
Photo Album 8″x8″ Color mode: CMYK Resolution: 300 DPI Total Dimensions: 4838×2438px