Word press is one of the most popular blogging tool which is used these days and promoting your blog or business in social networking sites such as Facebook, Twitter, LinkedIn, Pinterest etc, social media sharing has come of age as far as online promotion goes to improve your traffic and reach more audience,
WordPress has got lots of plugin which helps you to combine your site with social networking sites we have combined some of the Best Social Media plugins For WordPress to improve your business promotions
Select text social share wordpress
Select Social Share WordPress is a social share plugin for wordpress. This plugin will enable select text then share in facebook or twitter for visitor
You can select style, color & by using the options of this plugin. This plugin will boost your post in social media.
Ultimate Youtube Shortcodes
The WordPress Ultimate Youtube Shortcodes Plugin is a wordpress plugin that helps wordpress site users integrate youtube videos into their wordpress websites.
Some of the functionalities include
Displaying a youtube video to a page or post via shortcode
Playing a random video from a playlist
Displaying a video gallery from a playlist
Displaying a video gallery from a channel
Pagination for the video galleries
Responsive Design
Prettyphoto modal popup integrations
Custom Facebook Fan Gate Plugin for WordPress
Facebook Custom Fan Gate for WordPress is a plugin that adds an overlay pop up over the home page and the posts of your WordPress blog. The user has to like a specified url to close the layer or click the close button. It's also called "like gate".
This plugin speed up building your fan base. Having a big number of fans means that you can post content to your walls and increase traffic to your site.
It differs from other similar plugins because:
you can use a custom image to completely personalize the pop up style (no borders, no fixed dimensions, no titles!).
this is the only plugin that comes with stats and historical data and makes a simple chart with the numbers of likes gained
Twitter Feed – Social plugin for WordPress
Twitter Feed plugin for WordPress allows you to easily display 6 different twitter resources in a wide variety of ways, using the included shortcode engine and widget. Choose from 5 different skins and 3 different shortcode types. The skins are fully responsive. The plugin has the option of caching twitter data to improve the performance of the plugin.
Ultimate Social Deux
Did you know that social media buttons often is the reason why your site is running slow? On multiple test environments we replaced the standard social media buttons and replaced them with ours. We saw improvements of several seconds on these environments. This is due to light javascript and CSS.
Ultimate Social Deux is a plugin that gives you 8 popular custom styled social media sharing buttons with counters.
Multiple display options trough easy placement options or shortcodes.
We always use WordPress best practises to make sure that no code is used unless necesary.
Cirq Social and Feature Linking for WordPress
Want more attention on your social networking accounts? Use Cirq Social.
Looking for a new way to stand out? You realize presentation matters to get and hold attention. You know that you need to set yourself apart in every way possible.
Cirq Social, a new way to link to all of your favorite social networks and add important links you wish to feature, in a creative and customizable way that stands out.
Cirq Social enhances your audience-reach and expands your capability. Stand out!
Keep your visitor on site while they participate in interacting with your brand socially.
Epic Birthdays Social WordPress Plugin
Main Features
Easily make your website go viral
Build your mailing list in an epic new way
Get your website link onto a users wall on their birthday (the busiest day of their wall)
Send your visitors a happy birthday email (with marketing opportunities)
The Epic Birthdays Social WordPress Plugin is the latest plugin available from Epic Plugins. What does it do? It allows you to add a simple call to action for a visitor to add their birthday to your website.
The WordPress Ninja URL Shortener & Bar
An unique WordPress Premium Plugin and Stand Alone App which automatically includes your own self hosted and customized toolbar in your site and on all outgoing links from your blog posts and a lot of extra features.
URL Shortener and Monetization App. Increases your page views and time on site. Offers to your readers and unique way to discover even more related contents suggested by the bar.
Receive even more traffic from Facebook, Twitter, G+ and Linkedin with every share done using the light weight but powerful social share buttons on your bar. And those are just the pike of the iceberg,
Facebook Social Reader – WordPress Plugin
Features:
When people read an article or blog on your wordpress site with Facebook Social Reader, they automatically read the article or blog on their Facebook profiles.
Provides a fully customizable sidebar widget. Don't want to share? Users can easily turn auto-sharing off. View recently read articles, and remove those they don't want shared.
Administrative panel to view all published actions of users with option to delete any activity.
A clean & user friendly admin UI to manage everything.
100% multilanguage – Facebook Social Reader is completely translatable both in front and back-end.
Works for any post, page or custom post type created on your blog.
Works for any E-commerce plugins like WooCommerce, WP-e-Commerce, Easy Digital Downloads, Jigoshop etc.
WordPress Sticky Social Bar
'GTS WordPress Sticky Social Bar' is a premium plugin that enables you to use a sticky social links bar in your WordPress site.
This plugin produce a slick, sticky social bar in your website. You can manage your own links from a collection of 32 social networks. You can also flexibly manage your sticky bar settings from your plugin's settings page.
xBooster Social Plugin
Simple Social Bar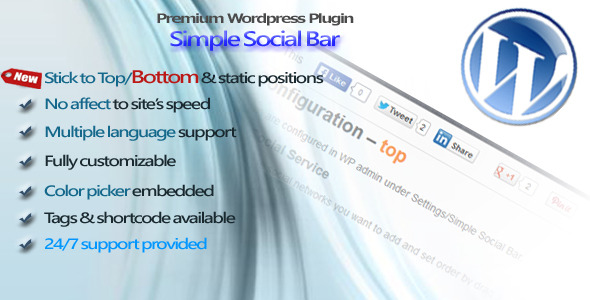 Why do you have to choose this plugin?
There are 3 special reasons.
First is floating feature; this will show the social bar full time(eye catch your visitors) and get you maximum share.
Second is using socialite; this loads script only when necessary(hovering/ or customizable seconds after page load). This will have no affect to your site speed.
Third is multiple language support.English, Spanish, German, French, Chinese, Russian and Dutch
Easy Social Share Buttons for WordPress
Easy Social Share Buttons for WordPress has option to set custom settings for each post/page where buttons are setup to be displayed. You can turn it off for current page, change template, position of buttons, counter settings, hide or show network names, hide native social buttons if you have activated them.
StickySocial – WP Retina Social Counter Plugin
Retina WordPress plugin displaying numbers of your social accounts fans, subscribes and followers as to be sticky on the left/right side of your website
Social Sidebar for WordPress
Quickly add CSS3 social links to your WordPress site with this very configurable plugin!
WordPress Article Social Share
The Article Social Share plugin adds a sleek social bar in your articles and pages, to boost your page views.
SocialFans – WP Responsive Social Counter Plugin
Retina Responsive WordPress plugin displaying your social accounts fans, subscribers and followers number with a lot of features coming with 21 social networks like facebook, linkedin, pinterest , twitter and 17 other social networks
Responsive WordPress Vimeo Grid Video Gallery
The WordPress Vimeo Grid Gallery Plugin is a wordpress plugin that displays the vimeo channel videos of the given user profile. The plugin includes a simple backend where users can set the vimeo channel videos to show
Easy Social Locker
Easy Social Locker is easy to use social locker which allows you to automatically lock any page, post, custom post type or selected content. Your content is hidden and only way to reveal it is to like or share your page. This functions gives you more likes, shares, in's, tweets or +1's.
Easy Social Locker has unique functions not provided by lockers on the market that can generate more likes, tweets, shares, in's or +1's
Automatic blog category lock – you can lock any blog category with just a single click
Hiding like counter for all available social networks (even Facebook)
Ability to generate unique URL addresses for like and share – when user likes one page he is not able to like it again. This function generates unique address for like each time page is loaded and this makes like of one page available again.
Ready made function for template and plugin developers to lock content with one line of code
Shortcode to lock selected content
Easy Facebook Contest
Easy Facebook Contest is Easy Facebook Fanpage and Promotion Builder plugin which allows you to run unlimited Facebook contests. Please ensure you have purchased and installed the latest version of Easy Facebook Fanpage and Promotion Builder before using this plugin.
Features
Create and run unlimited number of contests
Reward users for referring friends – you can setup bonus which user will get if referred friend enter contest.
Easy create designs with Page Builder
Fan Gate – limit contest only to your fans
Share Gate – a quick way to share message on participant wall which all friend will see.
Social Sharing – people will share your page over social networks to get additional bonus (Facebook, Google+, Twitter)
Responsive WordPress Facebook Albums Grid Plugin
The WordPress Facebook Albums Grid Plugin is a wordpress plugin that displays the facebook page albums of the saved user profile. The plugin includes a simple shortcode for displaying the facebook albums on the front end
Responsive WordPress Youtube Grid Video Gallery
The WordPress Youtube Grid Gallery Plugin is a wordpress plugin that displays the youtube channel of the stated user profile. The plugin includes a simple backend where users can set the youtube channel to show.
Slick Pins – Pinterest Feed Widget & Shortcode
EASILY ADD YOUR MOST RECENT PINTEREST PINS FEED AS A WIDGET OR ADD MULTIPLE FEEDS TO ANY PAGE OR POST USING A SHORTCODE GENERATOR!
SUPPORTS LINKING DIRECTLY TO PINTEREST OR OPENING THE PINS IN A LIGHTBOX, AND NOW SUPPORTING INDIVIDUAL BOARDS!
Twitter slider & User card for WordPress
Features
Show tweets of an user, search or hashtag
The slider can be horizontal or vertical, with a lot of options to personalize it
Setup the speed of the transitions, display or not avatars which controls do you want for the slider etc.
Shows the information of your twitter account, checkout the twitter card!
TCWP – Supercharged Twitter Card Management for WP
The number one problem facing small business and websites today, is the fact that they can't effectively engage with their audience over social media. Social media services, such as Twitter, are arguably the most important resources to help small businesses grow. TCWP was created to help solve this problem, by allowing you to display your content on Twitter in a professional way, making what you have to say even more eye-catching, and ultimately help it reach the widest audience possible.
Twitter Cards help you richly represent your content within Tweets across the web and on mobile devices. This gives users greater context and insight into the URLs shared on Twitter, which in turn allows Twitter to send more engaged traffic to your site or app. Twitter cards make it possible for you to attach media experiences to Tweets that link to your content. Users who Tweet links to your content will have a "card" added to that Tweet, which is visible to all of their followers.
Easy Facebook Fanpage and Promotion Builder
Easy Facebook Fanpage Builder gives you the ability easy and fast to create custom Facebook Fan Page Tabs linked directly to your current WordPress site. If you can create something in WordPress, you can now do it in Facebook with Easy Facebook Fanpage Builder for WordPress.
Latest version 1.2.7 from February 18, 2014 with added mobile support to Facebook Applications (mobile support is in development mode and may produce unexpected results – use it on your responsibility) and WooCommerce 2.1 support.
Latest version of Easy Facebook Fanpage and Promotion Builder is compatible with WordPress 3.8 and WooCommerce 2.1.
Social Auto Poster – WordPress Plugin
Social Auto Poster lets you automatically post all your content to social networks such as Facebook, Twitter, LinkedIn, Tumblr, Delicious, FriendFeed, BufferApp. The whole process is completely automated. Just write a new post and it will be published to your configured social network account. You can reach the most audience and tell all your friends, readers and followers about your new post.
ChatKo is a quick and easy chat for your WordPress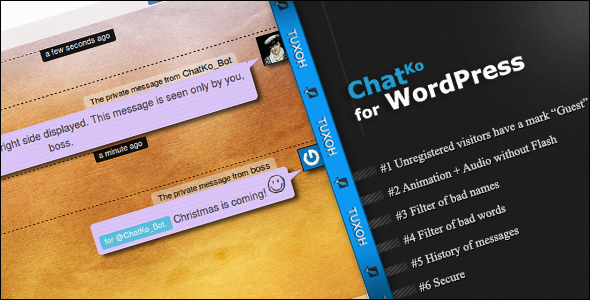 Quick and Easy chat for your wordpress site. All messages of a chat saved in RAM, not in HDD. Therefore the chat works very quickly, but doesn't save history for reduce expenditure of memory. ChatKo is a live communication! If you want a bright and quick chat, ChatKo is your choice!
Also ChatKo is a qualitative and safe plug-in for your site which allows to communicate for the registered users and guests of the site. Add a ChatKo widget on sidebar of your wordpress site to allow visitors to communicate in a chat.
Twitter Timeline Slider for WordPress
This plugin give an opportunity for the visitors to Follow you or Reply, Retweet and mark as Favorite your tweets through your own website. When someone retweet, reply or mark as Favorite your tweet, that will display for the other users and they can easily follow you and visit your website. With this trick, you can get much more visitors and followers, therefore your website traffic can be increased much more. You can lock the screen and set up a timer or you can allow for the users to close the slider. If you don't allow to close the slider, it still opened until the visitor reply or retweet any of your tweets. More followers, retweets, more visibility on Twitter, much more audience.
ShareIt – Shareable Content Snippets for WordPress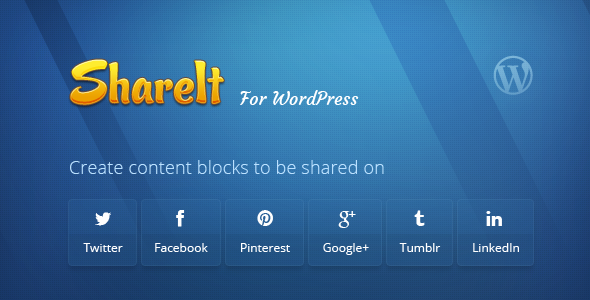 ShareIt is a WordPress plugin to create and share content snippets made of texts and/or images through social networks: Twitter, Facebook, Pinterest and Google+
ShareIt will adapt to the capabilities of each social network:
In Twitter, share a status with a link.
Facebook has the most complete sharing, including title, description, image and link
For Pinterest, share the description, image and link
Google+ accepts only the link to the page
For Tumblr grabs the text and source
LinkedIn accepts text, title and URL
jQueryFacebookWall WordPress
jQueryFacebookWallWP is a wordpress plugin that will build a timeline or wall style post feed on your worpress website post or page with the Facebook account data of your choosing. jQueryFacebookWallWP has settings to show events, likes, photos, and albums. It also includes a Facebook style lightbox to browse photo galleries. And best of all, it has user interactions so photos, posts, and comments can be liked or commented on.
WordPress Facebook Contest Plugin
Tweetable Shortcode v.1.2 – Quick Tweet Sentences
Tweetable plugin for wordpress allows you to make sentence as a quick sharing tweet. Select some text in your wordpress post editor and simply click on the tweetable shortcode button in the wordpress editor toolbar.
Huyai Facebook Events Promoter
Huyai Facebook Event Promoter is a WordPress Plugin that enables you to display Facebook events on your website, and granting your visitors the ability to invite their Facebook Friends, RSVP and to share your event without leaving your website. There is also a guestlist that you can use to manage your guests
Flipboard RSS Feed + Shortcode
Advanced Polls for WordPress
ExtStore Advanced Polls is a WordPress plugin which allows you to create polls and display its result as many graphical figures in nice-designed popup windows. There is no restriction in the number of polls, with a single installation users can add and manage polls unlimitedly.
Responsive design.
Nice and clean design.
Built Twitter Bootstrap.
Support unlimited polls and answers.
Support single or multiple choices for answers to vote.
Facebook Login WordPress Plugin (Survivor)
Facebook survivor is an essential plugin for any wordpress based websites because it is replacing the old registration way with only one facebook button!
Also it replaces the registered user's regular image with his facebook image in all sections like comments , profile pages and others. User will feel more comfortable on the website and will have the chance to interact faster than before.
And as a website owner You could post directly to your users facebook wall , also to your facebook page with one click after publishing your post
Instagram Photo & Video Gallery WordPress
Features
Some of the features that come with this plugin:
NOW WITH VIDEO SUPPORT
Fully Responsive:Images come with size in percentage so it will adapt to any resolution!
User & Tag Gallery Widget: Widgets ready to show the last photos in your sidebar or footer
User & Tag Gallery Shortcode: Easy to use shortcodes with multiple configuration options
Lightbox Integrated: Responsive lightbox with gallery mode activated!
Cache control for better result: Cache the queries to Instagram to not slowing down your site, the value of cache can be set sepparetly in each shortcode/widget
Speedy PM for WordPress
This script creates a modern user interface for sending ajax based PM(Private message) among all users in wordpress site. Users dont need to go to a spicific page to send a message, Speedy PM interface can be launched from any wordpress page or post.
If a user receives a message he/she is notified via a facebook style notification at bottom of screen. User can click that notification to see the message and reply.
Basic features of this plugin :-
File Attachments and Smiley supported User friendly, flexible and responsive design to support maximum modern devices No server modification or 3rd party software is required Load on server is very low as we do most programming stuff in javascript except what cant be done. Also we reduce server hit by storing data in cache, instead of loading on every page by ajax. Lifetime Free Support and Updates Modern User Interface
Meme Generator WordPress Plugin
The Meme Generator WordPress Plugin is exactly what every WordPress Blog has been looking for. Everyone loves seeing and making funny memes, so why not let users do that on your website? The Meme Generator WordPress Plugin has all the features viral meme generator websites have and much more!
It let's users see a set group of pictures picked by the admin on the left side and a random bunch of pictures that the admin has approved on the right side of the generator. And if that isn't enough, users can upload their own pictures to make memes with!
The Meme Generator WordPress Plugin let's users download the meme they have generated and also submit it to the website, and if approved by the admin, let it appear on a page on the website. The admin has full control over what memes are published and aren't so that no one can spam your website.
WordPress Social Rating Plugin
Kohrus rate is a unique WordPress rating plugin that lets your site visitors rate posts or pages on your site by simply tweeting votes to the Twitter timeline. With the depreciation of trust of sites that use cookies to track users behaviour, it's imperative webmasters you find alternate ways to validate user interaction.
Imagine a reader of your next blog post passing on his or her opinion to 1,500 of their friends because they love your new post so much.
My Social Counter for WordPress
My Social Counter is a wordpress plugin (Widget) for your blog where you show social accountants best known social networks, you can add 1 or more networks that your blog is communicating with people, and you can see the counter of followers, subscribers. etc according to social network show.
Facebook Comment Slider for WordPress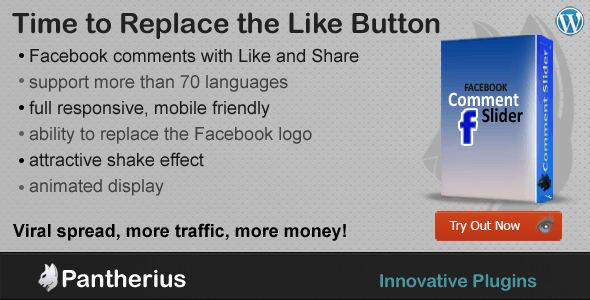 This fancy slider offers an opportunity for the users to leave comments about your website (or any subpages) when they reach the bottom of the page or with a simple click on the Facebook icon. The comments will displayed for their Facebook friends and they will connected.
The Facebook Comment Slider also contains a Like and Share button. Thanks for this, it can be the most effective WordPress Facebook Plugin. When the visitor leaves a comment, it automatically Likes your WordPress page and it will be displayed on the visitor's Facebook Profile. You don't need to integrate Like button or Share button to the posts or to the pages, because this Facebook Slider can appear on every pages and posts on your WordPress website. The users will find the Like button, Share button and the Comments Box on the Facebook Slider.
Social liker – Social Locker For WordPress
Simply allow visitors to exchange a Like, +1 or Tweet for post content, videos, a free download, a coupon code or pretty much anything you want.
Then, by clicking Like, they'll promote your site to their friends, followers and colleagues… who may also want to social-liker.
And the more likes, +1s and tweets you get – the higher your post and sites will appear in Google, making this amazing for SEO too!
Social Share Wall
Essentially you are protecting your content behind a Social Share Wall, you get them to share your website with their friends and colleagues instead of asking for cash.
Its the smartest way to get your site out there, drive traffic and push yourself up Google (which takes these kind of social signals very, very seriously).
Ditty RSS Ticker
Ditty RSS Ticker is a multi-functional RSS display plugin. Easily add multiple RSS feeds to your site either through shortcodes, direct functions, or in a custom Ditty News Ticker Widget.
Create a dynamic display of unlimited RSS feeds on your site with a multitude of settings. Display feeds in a scroller, rotator, list, or widget. Please refer to the Ditty RSS Ticker help page for in depth descriptions of all settings.
Arqam – Retina Responsive WP Social Counter Plugin
Arqam Plugin grabs the latest counts of your Fans/Followers etc from your Favorite Social Networks and then displays them on your Blog. It is the perfect solution to encourage more users to join your network.
Author Box – WordPress social / author plugin
All In One Author Box is a WordPress plugin designed for displaying social network widgets inside tabbed area located in your posts. Every author is allowed to share their own profiles and provide a better representation of themselves. With 4 designs to choose from, unlimited color schemes and other various customization options, you can create author box that best suits your needs.
Funny Facebook Pop-up – Facebook Dislike Button
Unlike other wordpress content locker, wordpress funny facebook pop-up shows a pop-up for non fans visitors to like or dislike your page to continue browsing . Like button likes your facebook page and unlock blog for the user . Facebook dislike button moves when hover so funny unclickable dislike .
LinkedIn Social Feed
LinkedIn Social Feed displays your latest LinkedIn posts, the latest posts from a LinkedIn Group and the latest posts from a LinkedIn Company Page to your WordPress site. The feed can be placed anywhere on your site with the help of the widget. You can add as many widgets as you like and assign each one to display a feed of your choice.
WordPress Social Testimonial System
Social Testimonial System is a WordPress plugin built using WordPress Fuel. It allows you to maintain list of testimonials you receive from your clients and friends. You can also import recommendations via LinkedIn. There is a 'Ask for recommendation' tool which sends an email to your clients, colleagues and/or friends to fill in the testimonial. You have full control to approve or delete the submission.
WordPress Pinterest Feed
This plugin allows you to display a Pinterest feed on any WordPress page or post using a short code. Each short code can display a separate list of most recent pins from a username or board.
Shortcode options include Pinterest username, board, and pin count. A global/default settings section is also included with the plugin.
This is a very simple, very light plugin that will make it easy to add a dynamic social feed to any WordPress page or post.
Social Roll | Instagram for WordPress
Display your Instagram photos and video directly on your WordPress site and amaze your friends, followers, and clients. Developed specifically for WordPress; Social Roll innovates a new way to show the world about you and your brand. Great for businesses, Social Roll gives your clients the opportunity to look at your company culture and products.
Facebook Inviter and Content Locker for WordPress
This plugin is a new version of our previous Inviter plugin and has been fully rewritten, featuring a new backend interface, and using the latest Facebook developments to invite friends and post a message on a friend wall.
This plugin enables you to integrate a Facebook Friends Inviter on any blog post or page. Your visitors will have the ability to define the message posted on their friends wall, but you can define as an admin the image and link that will be automatically attached to each message posted on your visitors friends wall.
Ditty Twitter Ticker
Ditty Twitter Ticker is a multi-functional Twitter feed plugin. Easily add multiple user timeline or multiple keyword search feeds to your site either through shortcodes, direct functions, or in a custom Ditty News Ticker Widget.
Create a dynamic display of Twitter feeds on your site. With a multitude of settings you can create a feed with multiple user timelines or multiple keyword searches. Display feeds in a scroller, rotator, list, or widget. Please refer to the Ditty Twitter Ticker help page for in depth descriptions of all settings.
Social Panel for WordPress
Social Panel for WordPress gives you access to billions of Social Media accounts with ease. In just one click your visitors can connect with you on all of the web's most popular social sites. Gain tons of new Follows, Fans, Subscribers, and put your social traffic on over drive.
Share Locker
Share Locker is a WordPress plugin that lets you hide a content on a page or a post. If a visitor wants to unlock the content, she needs to click on a social button like Facebook Share, Facebook Like, Twitter, Google+ and VK.com. This feature is very useful to make your page and web site more social and viral and to gain a lot of authority and trust for the search engine positioning.
WPSocialStreamer
WPSocialStreamer is the first WordPress Plugin which is able to post the user's activities to their Facebook Timelines. Facebook is the biggest social network and you should use it to promote your site. Let the users do the main job for you. In addition, the best thing is that you don't need to pay a penny for the promotion / advertising. We have integrated several events, which can be triggered by users. On each event, a new post will be created on user's Facebook Timeline. Currently WPSocialStreamer support the following activities / events:
Affiliates Share
Features
Share buttons with automatic links for Affiliates
Integrates with Affiliates, Affiliates Pro and Enterprise
Supports Twitter, Facebook, LinkedIn and AddThis
Includes own Login and Share buttons
Buttons for Posts, Pages and Custom Post Types
Prefix and suffix single posts or post archives
Shortcodes included to render buttons anywhere
API functions for easy use in templates
Social Locker for WordPress
Social Locker is a set of social buttons and a locker in one bottle. It allows you to lock a part of content on a web page until a user clicks one of the social buttons and help you to get more likes/tweets/+1s, traffic and customers!
Social Share: WordPress social share button plugin
Social Share is a super simple and fast way to let your visitors share your content. With zero setup required, your visitors can quickly share your content to Twitter, Facebook and Google Plus, helping you expand your social reach.
Add to any theme
zero setup necessary; simply install and go
make it your own by color customizing everything
option to display site-wide or only on singular posts and pages
works on desktop, tablets and smartphones
uniquely and smoothly animated