WordPress Plugins are generally software with a group of functions attached which can be added to your WordPress website. It aids in extending the functionality of your WordPress Sites. Have you ever noticed how much time you waste on coding layouts manually or ever thought how long your visitors wait for loading of your site or wondered on how to stop spam commenting on your site? Whatever your queries may be. Our must-have collection of WordPress Plugins includes best quality plugins which can assist you in designing the best WordPress websites and also in enhancing their performance.  Amazingly designed, advanced-coded to match WordPress standards, and customized with multiple features, these Plugins will surely enhance the usability of your WordPress sites. All WordPress Plugins in our library constantly gets updated to match the latest WordPress versions.
Build an attractive website without any coding knowledge using our WordPress Plugins. Moreover, you can add mind-blowing effects, gorgeous landing pages and much over. Check out our WordPress Plugins library which can help you to take your site from good to great.
WPBakery Page Builder for WordPress
Have you ever noticed how much time you waste while manually coding layouts? No more trial and error with shortcodes or CSS! Now you have everything it takes to design anything and for any page. Yes, WPBakery Page Builder works with any WordPress theme!
Say hello to the most popular WordPress page builder plugin! WPBakery Page Builder is easy to use drag and drop page builder that will help you to create any layout you can imagine fast and easy. No coding skills required!
Access Frontend editor (Inline editor) or Backend editor at any time. Yes, WPBakery Page Builder comes bundled with 2 types of editors allowing you to choose your preferred view. Create your WordPress website with backend schematic editor or move your page building process to frontend and see your results live.
Not only that, WPBakery Page Builder gives you full control over responsiveness. Create responsive websites automatically or adjust preferences you need to ensure your WordPress website looks perfect on mobile or tablet. WPBakery Page Builder has everything it takes to create a responsive website. Save your money on purchasing different devices with WPBakery Page Builder Responsive Preview available out of the box.
It is really easy to start building your WordPress website with WPBakery Page Builder – there are just a few clicks to make:
Add rows and columns to your page;
Choose from over 50+ predefined content elements or start from professionally designed template;
Drag elements around your page;
Simply adjust element settings via intuitive controls and options.
Publish your page.
And that's not all! With page builder, you don't have to be a developer to create a page. With WPBakery Page Builder, you don't have to be a designer either.
Extensions: 200+ unique add-ons with hundreds of content elements available exclusively to WPBakery Page Builder;
Template Library: Downloadable layout templates with pro templates updated regularly. Build your layouts literally in seconds;
Your web developer (if you have any) will love WPBakery Page Builder as well. We offer a comprehensive knowledge base describing our developer API so you can extend WPBakery Page Builder. For those who don't wish to code, WPBakery Page Builder offers Shortcode Mapper allowing you to add 3rd party shortcodes to your WPBakery Page Builder content elements. With WPBakery Page Builder you can work on new or existing websites as it will recognize your existing content and adapt to any WordPress website. Forget about page builders tailored for a specific theme to get you locked up – WPBakery Page Builder works with any WordPress theme.
Slider Revolution Responsive WordPress Plugin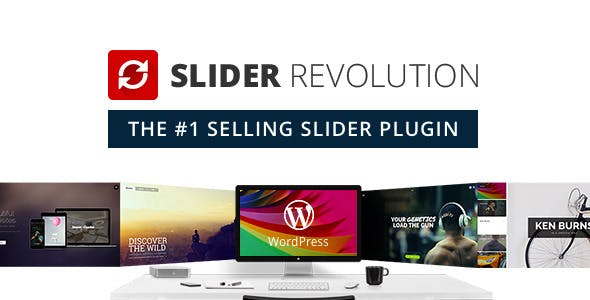 FRONT PAGE DESIGNER
Slider Revolution is not only for WordPress Sliders. You can now build a beautiful one-page web presence with absolutely no coding knowledge required. To get you started fast, we included a ton of premade examples that come with all assets included!
Create Beautiful One-Page WordPress Websites
Lots of example sliders included
Works Great on any Device (Desktop, Tablet, Mobile)
No Coding Knowledge necessary!
DRAG & DROP VISUAL SLIDER BUILDING
Building a WordPress slider has never been easier! Even though Slider Revolution is sporting an impressive number of options, even beginners will manage to create beautiful presentations with our new, more intuitive workflow.
Text, Image, Video, Shortcode, HTML Content Layers
Complete Graphical User Interface
Custom Slide Content for different Devices
Full Control over Styles, Animations, Transitions
FULLY RESPONSIVE SOLUTION
We made sure that our Slider Revolution WordPress Slider plugin looks great and is intuitive to use on every device, be it desktop computers, tablets or smartphones.
Works on Desktops, Notebooks, Tablets & Smartphones
Optimized for Android & Apple Devices
Custom Slide Content for different Devices
Fallback Options for Mobile Devices
TRUE MULTI-MEDIA CONTENT
We want the Slider Revolution to integrate into your WordPress website as seamlessly as possible. Why not show any content with it?
Regular Image Display with Bulk Upload
HTML5, YouTube & Vimeo Video Support
Popular Social Media Content Stream
WordPress Post & Custom Posts
NAVIGATION DESIGNER
You get tons of navigation styles for bullets, arrows, tabs & thumbnails with Revolution Slider. The kicker is that you can now easily modify or create your own sets of navigation elements!
Arrows, Bullet, Tab, Thumbnail Navigation
Lots of "Ready to Use" Styles included
Markup and Style Builder with Preview
Export your own Navigation Sets!
WE TAKE SECURITY SERIOUSLY
Our Slider Revolution WordPress Plugin is regularly audited by professional researchers at Dewhurst Security to make sure that it's no threat to the security of your WordPress website.
Checked WordPress Plugin Security
New Update Notifications via the Backend
Constantly Maintained ThemePunch Quality
LayerSlider Responsive WordPress Slider Plugin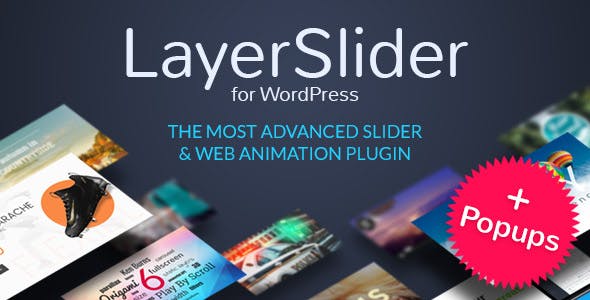 LayerSlider is a premium multi-purpose animation platform. Slideshows & image galleries with mind-blowing effects, gorgeously animated landing pages & page blocks, or even a full website can be created using LayerSlider. Every website can benefit from the capabilities of this plugin.
The drag and drop visual editor make it really easy for everyone to get started using LayerSlider. No coding or technical skills required. The ever-growing selection of importable templates are an ideal starting point for new projects and they cover every common use case from personal to corporate business. They are carefully crafted, aesthetically pleasing and can be easily customized to fit for any needs.
UberMenu – WordPress Mega Menu Plugin
UberMenu™ is a user-friendly, highly customizable, responsive Mega Menu WordPress plugin. It works out of the box with the WordPress 3 Menu System, making it simple to get started but powerful enough to create highly customized and creative mega menu configurations.
Fully Responsive
Mega or Flyout Submenus
Compatible with Mobile devices, including the iPhone, iPad, and Android
Touch-enabled
Ultimate Addons for WPBakery Page Builder (formerly Visual Composer)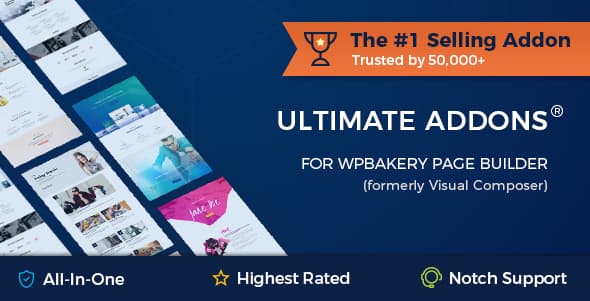 This plugin adds several premium elements in your Visual Composer on top of the built-in ones given by WPBakery. Every single element in the package is crafted with utmost attention to details and a simple objective to provide you an ultimate experience. We've put a lot of time and care to ensure that all the elements are flexible so that they will open limitless possibilities for you while maintaining simplicity at the core.
EventOn – WordPress Event Calendar Plugin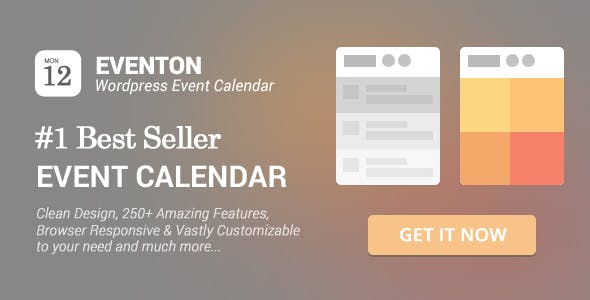 Here's some of the rest of the features…
Supports single and multiple day events
Create single day events
Create events without end day or time
Create all-day events
Duplicate events in wp-admin
Exclude certain events from the calendar
Span events until end time while hiding end time
Set event location image
Set location by latitude longitude
Save locations and re-use them for events
Set event organizer contact information
Save event organizer for re-using in events
Learn more about the event link support
Various options for how a user can interact with an event
Use universal time and date format through your website
Schema SEO content support for calendar events
Ability to auto-archive past events
Easily add custom CSS styles via event ON Settings
Customize calendar month/year format
Customize calendar date and time formats
Ability to reset calendar appearance to default easily
Ability to open event Cards on load
Display upcoming events list by months
Pre-set calendar event order ASC/DESC
The show featured events above others in the calendar
Show calendar with only featured events
Create calendars with featured images on list
Dynamic "load more" pagination of events in the calendar
Show calendar for certain fixed months
Ability to set event card opening to act as an accordion style
Essential Grid Gallery WordPress Plugin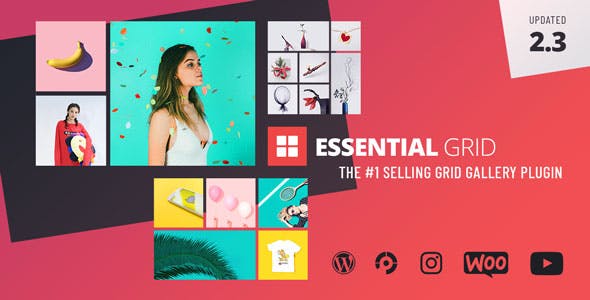 Essential Grid Gallery is a premium plugin for WordPress that allows you to build the great looking image, video and audio galleries from various sources! Use the adapted WordPress gallery functionality, posts, and pages, include albums built with other plugins like NextGen Gallery, connect to the big social media streams like Instagram, YouTube, Vimeo, Twitter, Flickr, etc. or build a complete custom gallery grid. Our template library will give you example grids that will look outstanding on mobile devices too and are easy to configure and fill with your content!
Popup Plugin for WordPress – Ninja Popups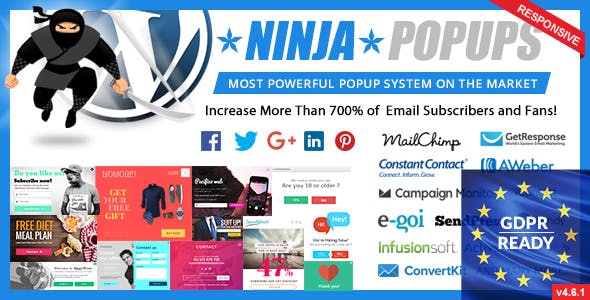 Ninja Popups for WordPress combines a professionally designed popups to convert visitors on your site into taking an action whether it`s subscribing into your newsletter, offering a discount/coupon for leaving customers, or locking content until they share you will increase your subscriber count and social signal of your site which is exactly what google & other search engines wants.
Ninja Popups for WordPress – integrates all popular mailing systems like MailChimp, GetResponse, InfusionSoft, JetPack, ConvertKit and many more. You get full compatibility of popup plugin and mailing systems – by API.
RoyalSlider – Touch Content Slider for WordPress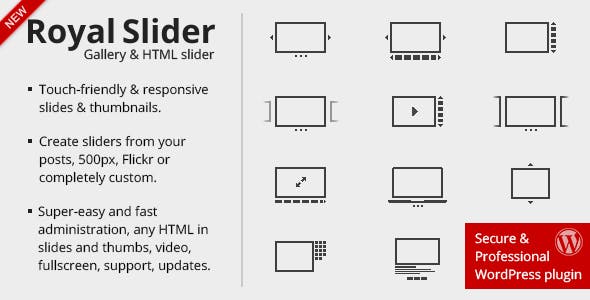 Royal Slider for WordPress is a responsive image gallery and HTML content slider plugin with touch swipe navigation. The plugin is mobile-friendly and allows creating completely custom slideshows and css3 banner rotators with images, videos or HTML content in slides. You can also dynamically populate data from Flickr or featured posts of any post type – like WooCommerce products. Developed in best practices of CSS3 and HTML5. For the photo gallery, you can enable vertical or horizontal thumbnails, enable lazy-loading or fullscreen. Carousel also supports YouTube or Vimeo videos that allows you to create video galleries.
Royal Slider is focused on performance, accessibility, stability and providing the best experience for user with any device. It doesn't have a dozen of fancy transition effects, but types that it has worked as fast and as smooth as current day technology allows. Script modular architecture allows you to exclude the parts that you don't need from the main JS file to optimize it even more.
Easy Social Share Buttons for WordPress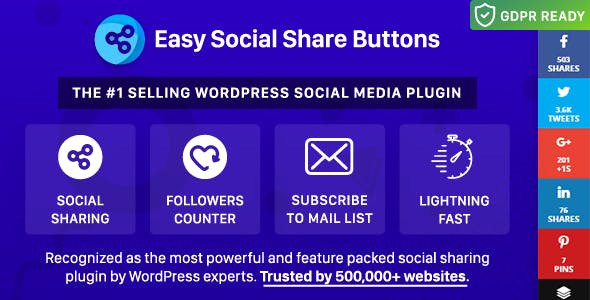 Easy Social Share Buttons for WordPress adds to your site unique WordPress social share buttons, awesome looking social followers counter, easy to use subscribe to mail list forms and social live chat functionality. All that in the recognized as the most powerful and feature packed social sharing plugin by WordPress experts. Revolutionary WordPress social sharing plugin trusted by 500,000+ sites.
This extensive social sharing plugin for WordPress offers maximum flexibility and social media exposure by allowing you to share on more than 50 of the major social networks, including a wide range of mobile messengers. Not only that, but Easy Social Share Buttons for WordPress also boasts the best and most complete package of 55+ beautiful templates for social sharing and personal template builder, and the most comprehensive set of 30+ automatic design positions, 30+ attention-grabbing and eye-catching animations. This social sharing plugin for WordPress is unique in covering every possible location for displaying your social share buttons.
Easy Social Share Buttons for WordPress is the real trendsetter in social media for WordPress for an upcoming 4 years, trusted by all type of WordPress sites including leading technology brands. With Easy Social Share Buttons for WordPress, you get everything you need to boost your social shares, increase your social followers or grow your mailing list in just a single WordPress plugin
Hide My WP – Amazing Security Plugin for WordPress!
WooCommerce Amazon Affiliates – WordPress Plugin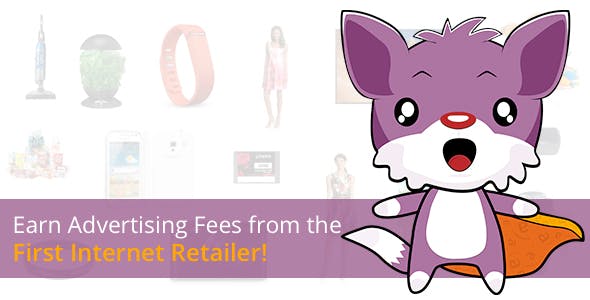 Master Slider – Touch Layer Slider WordPress Plugin
Master Slider WordPress slider plugin is a premium image and content slider with super smooth hardware accelerated transitions. It supports touch navigation with pure swipe gesture, that you have never experienced before. Master Slider is a truly responsive and device friendly slider which works perfectly on all major devices. Master Slider plugin is an awesome layer slider as well, with the ability to add any HTML contents (texts, images, …) in layers. It is easy to use, plus there are 80+ ready to use sample sliders for you. You have almost everything such as hotspots, thumbnails, video support, a variety of effects, and many more features in this plugin. Master Slider WordPress slider is the most complete among the best sliders.
Bookly PRO – Appointment Booking and Scheduling Software System
The default configuration of Bookly Pro includes:
Fully-customizable booking form that can be used on any device;
Filterable, sortable and searchable booking list that you can print or export to CSV;
Unlimited number of Staff Members with individual working schedules, prices, and ability to manage their profiles and online booking calendar;
Unlimited number of Services which you can group into categories and set unique colors for easier viewing in Bookly Calendar;
Importable and exportable customer base with unlimited clients list which displays payments stats and internal notes about the client;
Various templates for customizable Email and SMS notifications;
2-way synchronization between Bookly Calendar and Google Calendar which automatically reflects all updates in Bookly in your Google Calendar;
Integration with PayPal Express Checkout, the list of completed and pending payments;
Built-in analytics with booking statistics;
WooCommerce compatibility;
Multi-language support – 12 languages included;
Six months of 24/7 online customer support.
Once you purchase and install Bookly Pro, you will have Bookly plugin and Bookly Pro add-on activated. You are free to add more advanced functionality to your default configuration with various Bookly add-ons for automating your online booking system.
If you use the legacy version of paid Bookly, please update to the latest version. Follow the instructions on the migrator page to switch to the new Bookly Pro with ease and for free.
Quform – WordPress Form Builder
If you use WordPress, require custom forms and don't like wasting time or simply don't want to touch any code then this is the must-have tool for you.
Quform 2 has been given a complete overhaul! Finally, we are happy to present our vision of the ultimate form builder for WordPress. We've taken time to ensure our plugin will meet our customers' needs, and many years of feedback has helped shape the latest better-than-ever Quform version.
Thanks for trying out Quform, we hope you consider it for your WordPress projects.
Functionality features
Quform is an advanced WordPress plugin that allows you to quickly and easily build multiple forms with total control. Whether it's a complex quote or booking form or just a simple contact form, Quform will allow you to do all this without touching any code. In a few clicks you will have a fully functional form. It's that simple.
Using the form builder is made simple with drag-and-drop and one-click functionality and it's compatible with all major browsers. There are options and settings for the basic user as well as for professionals. There are far too many features to list them all here, so here are our favorites:
wpDataTables – Tables and Charts Manager for WordPress
Features
A short list of wpDataTables features:
Cute interactive multi-functional front-end jQuery tables with filtering, sorting and pagination features rendered by DataTables library. You can manipulate all features easily from the WordPress administrator panel.
Server-side processing for MySQL-based tables.
Charts based on Google Chart and Highcharts libraries. Easily render charts from the
same dataset as your table. Charts can be updated in real-time together with the table, as you filter the data set.
Front-end editing for MySQL-based tables.
Table constructor which allows to create the tables from back-end.
MySQL query generator. Builds all the "SELECT FROM, JOIN, WHERE, GROUP" for you – just click the correct buttons!
WordPress DB query generator.
Allows to prepare an editable table out of your Excel or CSV
Responsive mode for any tables.
Advanced front-end table features: print view, save to PDF, save to CSV, save to Excel, Copy to clipboard by TableTools extensions.
Row grouping based on RowGrouping extension. If a lot of rows have same values of some column you can group them based on the value of this column. The sorting will be performed inside of these groups.
Accepted data sources: PHP serialized arrays, Google Spreadsheets, MySQL queries, MS Excel XLS and XLSX, OpenOffice Calc ODT, CSV files, JSON objects, XML data source.
Tweakable columns with different column types – strings, integers, floats, links, dates, images.
Justified Image Grid – Premium WordPress Gallery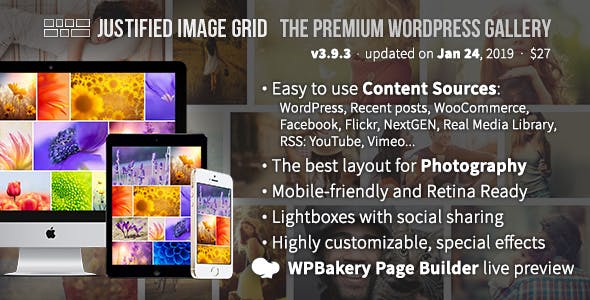 Justified Image Grid is a powerful and responsive WordPress gallery plugin, expertly designed to showcase your images in the most beautiful and authentic way. Whether you specialize in capturing magical wedding days, creative designs and innovations, expressive portraits, extraordinary architecture, or a journalistic exploration, your photos tell a unique story and deserve to be presented in their full glory.
WooCommerce Extra Product Options
Does the current functionality of your WooCommerce Products meet your needs? Would you like to add Conditional Logic to your forms? Need further Pricing options to grab your shoppers attention? Extra Product Options is the best WordPress Product Plugin you have been searching for.
You can create priced product options and addons, conditional logic (within the form builder), build forms, style & validate features, convert the variation attributes dropdowns to radio buttons, image swatches or swatches and much more.
You can even control the placement of your new fields with the Form Builder. Full support for checkboxes, radio buttons, select boxes, text-areas, input boxes, upload, date, range picker and color picker.
Mailster – Email Newsletter Plugin for WordPress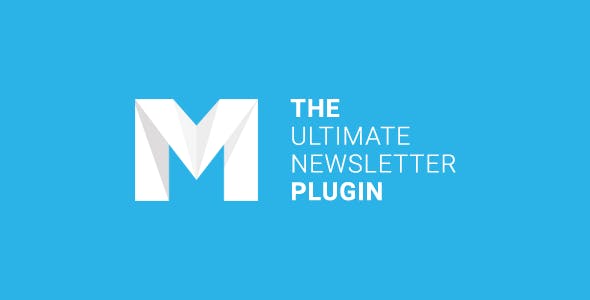 Complete Features List
Track Opens, Clicks, Unsubscriptions and Bounces
Track Countries and Cities
Schedule your Campaigns
Six types of autoresponders
Send your latest post to your subscribers
Use dynamic and custom Tags (placeholders)
Web version for each Newsletter
Embed Newsletter with Shortcodes
Forward via Email
Share with Social Media Services
Unlimited Subscription Forms
Sidebar Widgets
Single or Double-Opt-in support
WYSIWYG Editor with code view
Unlimited Color Variations
Optional Image embedding
Automatic Inline Styles
Background Image support
Quick Preview
Revisions support (native)
Multi-language ready
SMTP support
DomainKeys Identified Mail Support
Import and Export for Subscribers
Retina Ready
UserPro – Community and User Profile WordPress Plugin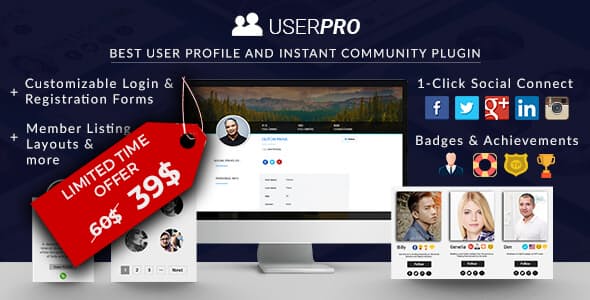 UserPro – A full-featured User Profile and Community WordPress Plugin
Create beautiful front-end user profiles and community sites in WordPress using UserPro.
It comes packed with amazing features like,
+ Customizable login and registration forms
+ Social connect and integration
+ User badges
+ Multiple member list displays
+ Viral marketing
+ Content restriction
+ Public/ private feed
+ Verified accounts, and much more.
It is simply an all-in-one plugin to help you create a complete community site.UserPro offers beautiful front-end profiles, login, and registration for WordPress. Besides these, UserPro comes with loads of other features like social connect and integration, viral marketing, user badges, verified accounts, content restriction, public/private activity feed, and more. It is simply a all-in-one plugin!
With UserPro, you can do just about anything you need for your WordPress Community website
+ Build your own community with searchable members directory
+ Give each user a custom and elegant profile
+ Add front-end, customized registration, and login to your website
Table Rate Shipping for WooCommerce
This table rate method for WooCommerce has the ability to add multiple rates for a given customer based on a variety of conditions set by admin. These can include shipping destination, cart subtotal, item shipping class, price, weight, and so much more.
List of Features
Based on conditions and prices on groups of products based on:
Order
Individual Products
Cart Line Items
Shipping Class
Works with WooCommerce Shipping Zones
Multiple instances allowed in each zone
The extensive list of conditions:
Subtotal
Quantity
Weight
Height
Width
Length
Surface Area
Composium – WP Bakery Page Builder Extensions Addon (formerly for Visual Composer)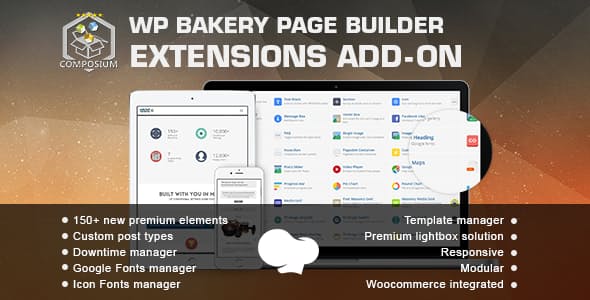 "Composium – WP Bakery Page Builder Extensions Addon" provides elements to easily embed forms created with the popular "QuForm – WordPress Form Builder" and pricing tables created with "Go – Responsive Pricing and Compare Tables for WP". Please note that these plugins are NOT part of "Composium – WP Bakery Page Builder Extensions Addon"; you will have to purchase and install these plugins separately. Once you do, you can use the included elements from "Composium – WP Bakery Page Builder Extensions Addon" that correspond with these plugins.