Epic futureelectronics design-atmosphere – suitable for all similiar purposes
Full integration of your logoobjecttext in the 3d scene without plugins (animated masks)
3 separate shots
Separate layers (robot, particles, flares, scanners, plasma sphere, etc. + map for glitch effect) – use all of them or separately
Very fast render
fullHD 1920×1080
CS 5.5 and above
Futuristic Logo Revealer
PROJECT DESCRIPTION:
FULLHD resolution high detailed project with two text scenes and logo packshot.Contains additional footages with 8000×8000 resolution and mask footage with 4000×4000.
PROJECT FEATURES:
1920×1080
14 seconds length
No plugins are required
Videotutorial is included
Bonus content
Glass Sphere Logo Reveal
Package of 3 different pre-rendered logo reveals
Project features:
No plugins required
1920×1080 Full HD Resolution
After Effects CS4 and above compatible
Easy to customize
8 seconds long
Abstract Glitch – Logo Reveal
Features
1920×1080 Full HD 25 fps
11 seconds long
No 3rd party Plug-ins
Fast Render
Easy customization
Video Tutorial
Very Easy To Customize
Just drag and drop your logo into "Logo Placeholder" comp, that's all.(Video Tutorial included). Feel Free to contact me with my profil page..
Glitch Logo Reveal
Glitch Logo Reveal
Length : 8sec
Tutorial Is Included
Sound FX Is included
Elegant Corporate Reveal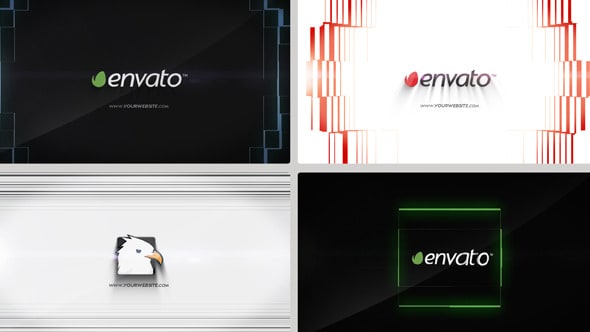 A Smooth, Elegant Corporate Reveal perfect for both Business and Personal Use!
Magic Light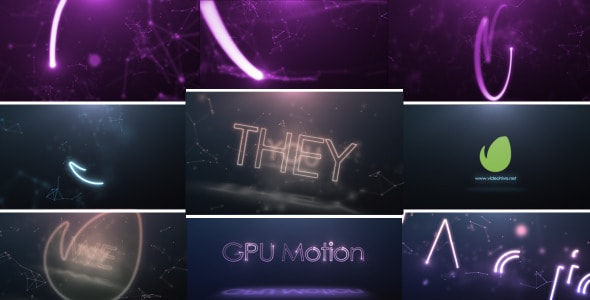 Welcome to After Effects Mag?c Ligth Project.
You can easily edit all texts and everything.
Tutorial included.
Totally done in After Effects and its fully customizable.
Use with any color or font you want.
HD Resolution (1920×1080)
Ultimate Water Logo
Ultimate Water Logo is an innovative and impressive template fully made in After Effects CS6. It isn't a simple footage of a water splash that reveal behind it your logo or image; it is a powerful template that generates water particles directly from your logo.
Very useful and simple to customize: just put your logo and render it!
Specs:
After Effects CS6 or above
Trapcode Particular plugin is required
FullHD 1920×1080
Easy to customize
2 Versions included: (1 version with Optical Flares pre rendered)
You can use it for reveal or vanish your logo
Space Odyssey
FullHD 1920×1080, 25fps, AE CS5
Simple and easy to use
No plugins needed, just drag and drop your logo or text!
Contains two versions, short and long versions
Pre-rendered intros
Rendering takes up to 2h
If you have any questions, please contact me through my profile page
Help PDF file included (with pictures)
Music used in the preview video is not included, but you can find and buy it here: DavidGarcia – With The Sun
Short Construction Logo Reveal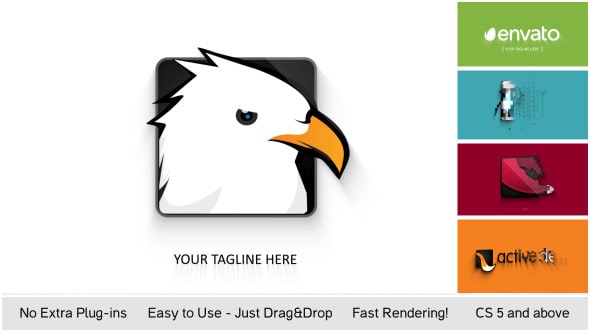 Hello! Here is a nice, quick construction logo reveal!
PROJECT MAIN FEATURES:
No extra plug-ins!
Fast render time!
Very easy to use!
PDF manual included!
Works with any logo or text
Just drug&drop your logo, type subtitle and you are ready to go!
Full HD resolution (1080p)
CS5, CS5.5, CS6 and CC compatibility
Soundtrack which I've used in preview you can find here.
Liquid Logo Reveal
4 Style in 1 project
After Effects CS4, CS5, CS5.5 and CS6 compatible
Full HD 1920×1080 30fps
No plugins required
Easily adjust Color and background (Only Water comp background can not be change but water effect color can change)
Video Tutorial Included
08 seconds duration
Music Not Included: Angelic Stage Hit Logo
Free Font Download: Roboto
Please support me by rate this project. Thank you
Hi-Tech Logo
Project features:
No plugins required
Project is good structured and very easy to use, just place your logo, edit final text title (and discription text if needed) and hit render
You can edit everything: lights, colors, camera movement etc
Works perfectly with text
Duration – 17sec
CS5+ compatibility
FullHD resolution
Music track are not included, i've used that track
Minimal Particles Logo
Minimal Particles Logo
FullHD (1920×1080) Resolution @ 25fps
After Effects CS5 and above
3 Particle Shapes
2 Version Logo Reveal
Trapcode Particular 2 plugins required
Well Organized Project
Detail instruction Documentation
Total duration 12 Seconds
30 Minutes FullHD Render
Contour Construction
This is new intro for your logo or text. You can use this project for any purpose.
The construction is depends from your logo, so you can use any logo or text and it automatically will construct to your logo.
Very easy to use, just insert your logo or write your text and change the background color if you need, and that all.
Trapcode Particular plugin is required.
Please read Readme.txt for more info.
In preview used music:
From: http://audiojungle.net
Author: Dirtyflint
Tittle: Hi-Tech Logo 08
You can get it here: http://audiojungle.net/item/hitech-logo-08/471581
Used font:
Name: Dekers
You can download it here: http://www.abstractfonts.com/font/14782
Business Card V1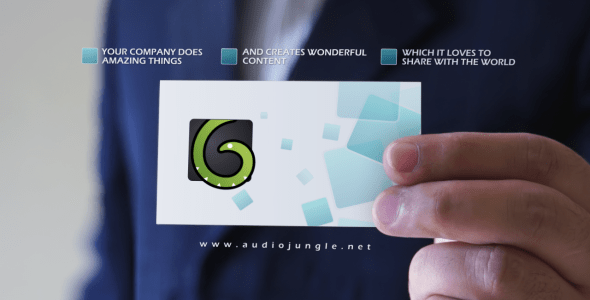 Video Preview
This is prefect for self presentations. This project has 2 version. You can easily insert any your logo, text or your already created business card. The project is very simple to use and require no additional plug-ins.
MAIN FEATURES:
After Effects CS4 , CS5 , CS5 .5
HD 1280 ×720!
Easy Customize, Video Tutorial included!
Changing colors in just 1 or 2 clicks!
Professionally organized! Download Music From Here Here
Balloon Logo Sting
Classy and asketic logo revealer with customizable colors and removable background to use it on your video footage. Circle logo background, diagonal slicer, sliding animation and falling pieces makes it stylish and look great. A quick logo animation to open or conclude your YouTube video, podcast, presentation etc.
Audio and sound FX included. You can either use the provided audio or use your own music taking just the sound FX part from this.
Elegant Logo 3 in 1
Clean and elegant logo reveal. Ideal for your personal or company logo.
3 different animations
NO PLUGINS required (version with Optical Flares is also included)
Full HD 1920×1080 and HD 1280×720
Compatible with CS4, CS5, CS5.5, CS6
Easy color and scene controls (Change background, flares or any other color in a second)
PDF tutorial is included
Very easy to use
Stylish Corporate Logo
Stylish Corporate Logo is a nice logo opener in Broadcast Quality. You can use it in your tv shows, promo videos and presentations. Optical flares is used for generating the lensflares. But Prerendered version is included for those who don't have the plugin. Everthing is done in AE itself so that you can change all the aspects of the project. You can use this project to show your logo, text or your video or image. Render takes hardly 5 to 10 minutes based on your system configuration.
The audio is not included in the project. You can buyit from here
Main Features:-
Full HD Resolution 1920×1080
Works with CS4,CS5,CS5.5 and CS6
No Plugins Needed
Easy to Customize
Audio Not Included
Elegant And Simple Logo Pack
This is Elegant And Simple Logo Pack. 8 logo Animation projects are include. Very simple to edit. Each logo animation have separate video tutorials. Just drag and drop your logo in to the project and hit Render. 100% After Effects. Once you purchase my project, please rate it
3D Stroke Logo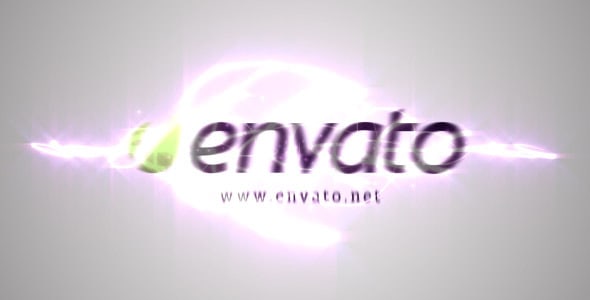 Simple, stylish and timeless HD logo reveal. You can even change the color of the 3D strokes.
Reveal your logo and website or slogan.
Original project and pre rendered project included in the pack -so you don't need any plugin.
Get a great animation, and save time with this project.
Features:
Full HD (1920×1080 & 1280×720)
No Plugins required.
After effects cs5 and above.
Easy to customize.
Fast render time
Energy Logo Reveal
THIS IS ENERGY LOGO REVEAL AFTER EFFECT TEMPLATE. 100% AE . YOU DON'T NEED ANY PLUGIN AND VERY EASY TO EDIT. JUST DRAG AND DROP YOUR LOGO IN TO THE PROJECT. AND ALSO YOU CAN PUT TEXT, IMAGES OR VIDEOS. IF YOU LIKE MY PROJECT PLEASE RATE IT… THANK YOU…
1080p, 720p,
No plugins required
Includes video tutorial
After Effects CS5 or higher
25 fps
Change text and color easily
Fast Rendering
Clean Simple Logo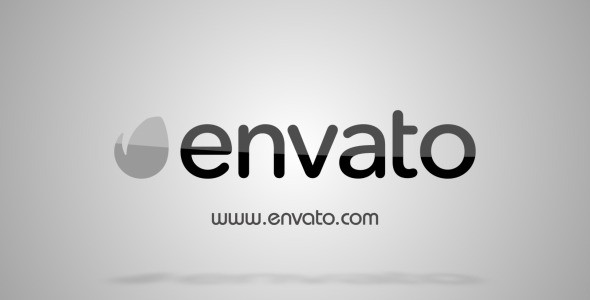 Lens flare created with optical flares, included is a pre-rendered version so no optical flares plugin is required
Full HD 1920×1080
Easy to modify and customize background – simple for use color controller added
Easy customization Change logo and text and render
Created in AE CS5
Pdf tutorial included
Corporate Positive Logo Intro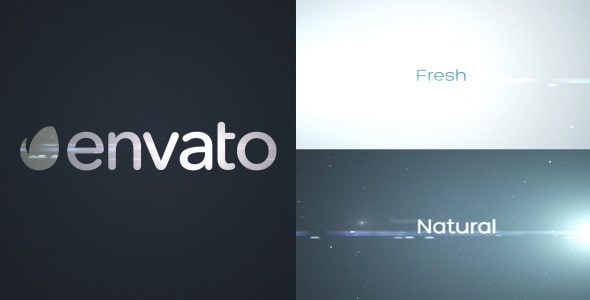 A clean and fresh corporate logo reveal intro.
Easy 1 layer control layer to control the colors and shadows.
Prepared in After Effects CS5.5
1920×1080 29,97 fps
No Plugins Required. Optical flares optional, Pre-rendered and original files included.
Universalized expressions
Font is free and link is included in .zip file.
Videotutorial included, explaining how to edit the file.
Music by Creative-Medias can be downloaded here http://audiojungle.net/item/positive-logo/2535271
Please use a Vector based logo format such as .eps or .ai for the highest amount of quality. – Updated with Universalized expressions, now works with all languages of After Effects.
Logo Openers
Professional, clean, bright, corporate logo/text animations with positive, elegant atmosphere to make your brand or message stand out!!!
High quality template well structured with attention to details!
Fully editable. Quick render: average 3 minutes/template on i7, 4 cores!
Main features:
10 AE project is included in the pack (5 normal logo versions and 5 3D logo versions)
Very easy to edit! Replace the logo with your own, rewrite tagline and render!
The template automatically makes your logo 3D, applies reflection and glare on it! ! (glare, reflection is removable from the logo; bright background is removable if not needed)
Full HD 1920×1080 px resolution (also HD 1280×720)
Compatible with After Effects CS4, CS5, CS5.5, CS6 or CC.
No plug-in required!
Black Classic 3D Logo
100% After Effects.
You can change everything.
Ambient occlusion 3D look with reflections inside After Effects
The file is very easy to change. Just replace the logo and render it. You can also type a text inside After Effects and use this with the 3D effect!
No Plugins required. (Only the Cycore plugins included in After Effects must be installed)
Editable with After Effects CS5, CS5.5, CS6 or CC
A bonus black and a bonus color version is also included.
Fast rendertime!
1920×1080 30fps Full HD
The Logoanimation is 14 seconds long
A new video tutorial is included.
Logo Intro Elegance Flare
Logo Intro Elegance Flare –
After Effects CS4 or Higher
FULL HD 1920×1080p / HD 1280×720p
No plugins required
Easy to edit
2 AE Files Versions (Original – PreRender)
1 Logo placeholder
1 Logo + Web address Text Placeholder
1 Text placeholder
Fast render time
Help File and Video Tutorial Included
Duration: 8 sec.
Logo 3D Levels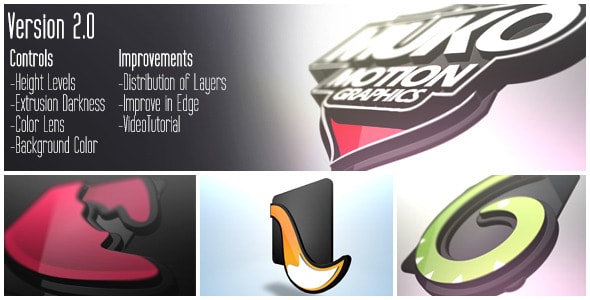 Main Features
100% After Effects
FullHD 1920×1080 and HD 1280×720
After Effects CS4 or higher
Animation (17 seconds & 8 seconds)
2 files included (Automatic & Manual)
Easy to use
No Plugins required
Bonus Animation (Logo 90°)
VideoTutorial
Help PDF
Particle Reveal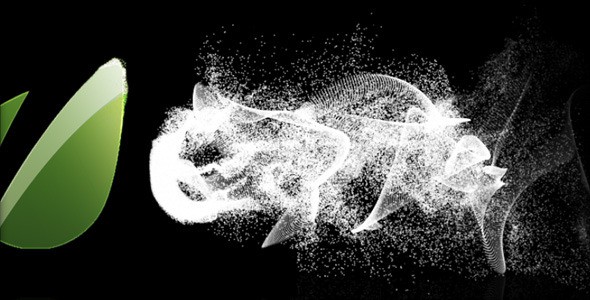 I take good care of my customers and offer free technical support for all of my items.
If you are new to Adobe After Effects or using project templates feel free to contact me with your questions and i will get back to you as soon as possible.
Elegant Extrusion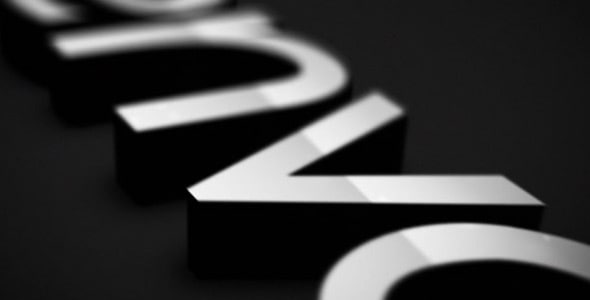 Just drop in your logo and render! If you'd like to customize the animation further, simply tweak some of the camera moves or re-time some of the animations, and you can turn this project into something completely different in a matter of minutes.
Included with the project file is a in-depth video tutorial to help you customize the project quickly and easily.
Multi Video & Multi Text Logo Formation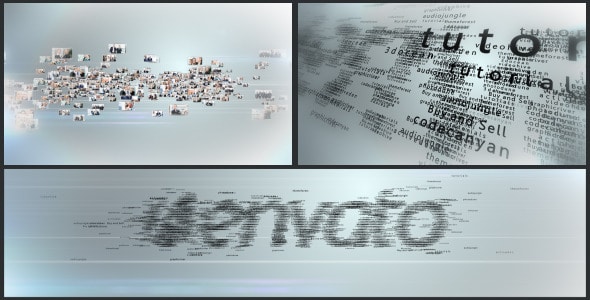 ENJOY 2 UPDATED VERSIONS OF MULTI-VIDEO AND MULTI-TEXT LOGO FORMATION
Chk out This is an unique and useful logo formation in 2 versions for your text and images, giving an edge to display
your product line
your achievements
for news id, sports title, fashion work
form your logo with diversified fields of companies
display your versatile expertise as an individual
or as per your imagination and need
Take full control on the project, as it is fully customizable, play on colors as you wish.
This project contains 20 images and 10 text in 2 versions respectively, but modify as your wish from a minimum of 1 image/text to a maximum of 50 for good results, however the project can take countless no. of images and text. The PDF help file included in the project will guide regarding this.
Colorful Particles Logo Reveal II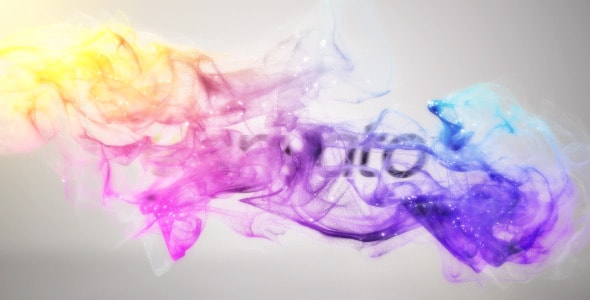 Hi,
This is a logo reveal template with beautiful and elegant colors particles, very much suitable for you website, presentation, promotion etc…
– HD resolution (1920×1080p, 1280×720p)
– No plugins required
-Particles are prerendered from external 3d application and is 24fps.
-easy to change the colors of particles. Help video included within the main zip file
-Drag and Drop Logo customization
-Audio by Scoring Audio Geeks, get it from the following link.
Fire Reveal
Short description
Fire Reveal features modern and energetic design combined with powerfull atmosphere and organic burning effect. This project is made in Full HD 1920×1080 and HD 1280×720. Fire Reveal is great opener for trailer promos, video productions, presentations, product showcases, portfolios and more.
Logo Transforming
Sophisticated animation of transformation of any your logo. Simply insert your logo.
You can use the natural color of your logo, or metallic.
No external plugins needed.
SoundFX and video tutorial included.
Stylish/Elegant Logo reveler CS3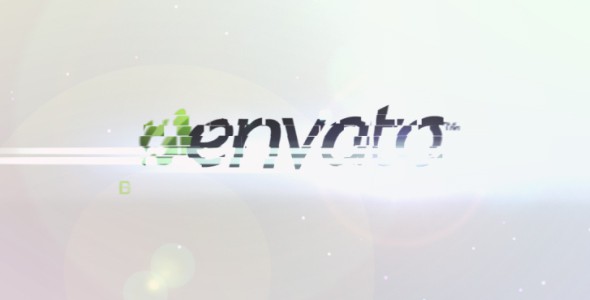 Simple, stylish and elegant HD Logo reveler. Stylized with custom Lens flares. Reveal your logo and slogan or website.
Available in two versions – Dark and Light.
Easy to customize. Add your logo and slogan and you're ready to render. No third-party plugins needed. However the Cycore plugins that comes with the After Effects must be installed. If you got Missing Plugins error – check your AE installation disc for those plugins.
Flying Through Images Logo Reveal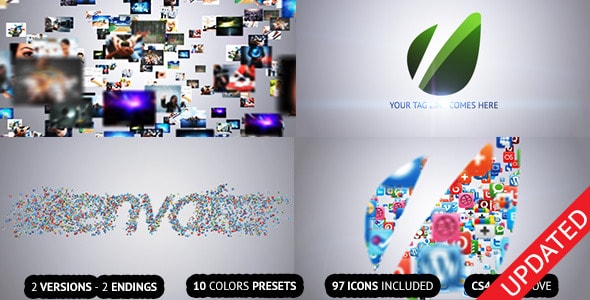 This item has been updated on the 14th of Nov. 2012!
Show images, photos, graphics, logos, icons or even videos to describe yourself, your business, your company or any event. Then fly through those images or videos and let them form your own personal logo or text. It is a stylish and fancy way of a short introduction and can be used as an opener or closer for trailer promos, video productions, presentations, product showcases, portfolios, commercials and many more.
This project comes with 97 social media icons!
Features
2 versions included. See preview for the differences.
2 endings. In the first one the logo gets a light sweep an then it fades to black, in the second one the logo will explode. See preview for more information.
97 social media icons included.
As default the project contains 30 placeholder for your images. Easily add or remove images.
Works with any text or graphic logo.
Works with rectangle and square logos.
For version 1 (preview no. 1, 2 and 5) you will not need any third party plugins.
For version 2 (preview no. 3 and 4) you will need Trapcode Form 2.
10 color presets included. Or use your own colors.
Sound effects included.
Full HD 1920×1080 resolution.
Works with CS4 and above.
Customization is a simple as you can imagine. Even doable by absolute beginners.
Step by step help file included.
Simple Logo Formation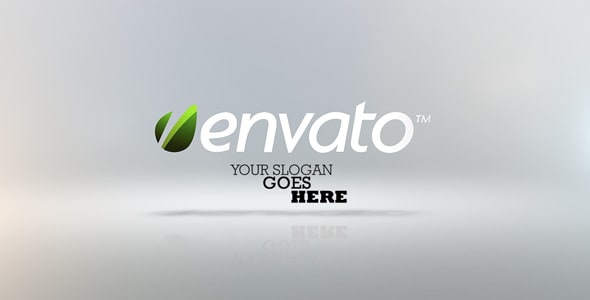 "Simple Logo Formation" is an elegant animation created in After Effects CS4. This project will present your logo in an elegant and stylish way. It gives you logo revealer created by your swinging logo which comes to the center of your screen. The logo is revealed in a gentle and stylish way. Your logo is highlighted by shiny particles that first reveal the text and then highlight it. You have a placeholder for your slogan. The background is very simple so that the accent is on your personal logo. There are two different backgrounds to help you present your logo in the best way. You can choose between the dark black background or the light silver one, depending on which one fits your logo style. . The sound in the preview is NOT included. The flare comes from Videocopilot's Optical Flares, but there is pre-rendered version, so you DON'T need any additional plugins
Words Logo Animation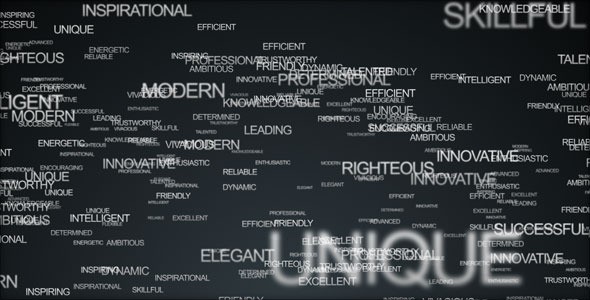 Information:
Trapcode Form 2 plugin required.
Easy customization – Edit, add or delete words as you please.
Customize words distribution,size and color
Video tutorial included.
Audio not included but can be purchased here.
Technical specifications:
1920×1080 HD.
16:9 Square Pixels.
25 Frames Per Second.
Adobe After Effects CS5 Project File.
3D Logo Intro Pack
This is stylish 3D logo intro. This project has 4 animations, one uses two parts of your logo, and the remaining whole logo. You can easily insert any your logo or text. The project is very simple to use and require no additional plug-ins. In preview I used the music "Three Variations Stinger" by the author "Dirtyflint" which is ideally approached to this video. No plugins needed.
Lines
project is created to be really easy customized. Insert text, change fonts, images , colors
YOU DON 'T NEED ANY PLUGINS .
Cycore effects which comes with your After Effects are required
Sound is avaliable here with 4$
there is Different variety of sounds that have coordination with this video.
The font is free in here
This is 10 seconds logo
tutorial for novice after effects users
FULL HD 1920×1080
(ANY) fps you need but 29.97 is default.
10 minute for rendering – in 3000 AMD Quad core + 2 gig RAM
Ribbon Logo
Ribbon Logo Reveal Info:
Reveal your logo with this professional animation template.
Features Pre-Rendered 3D animations
Features:
Color Pickers for easy color changes
Help file included
2 Project Files Provided: A Full Version, and a version with Pre-Rendered Optical Flares
Includes 3 Render Comps – 1920×1080, 1280×720, 720×480.
Quick Logo Sting Pack 01: Clean & Bright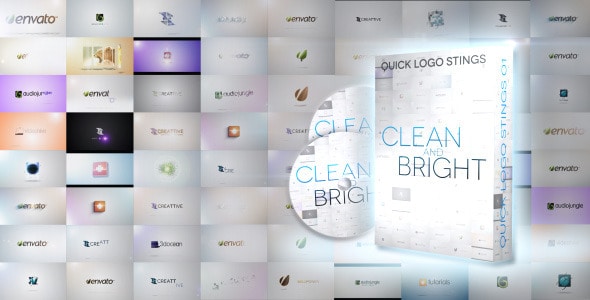 Sometimes a long Logo Reveal can upset your viewers, especially if you want to use it often. So a Collection of 14 short, but professional Logo Stings is what I present you here. Use it as quick Intro/Outro, or eye-candy between scenes. Perfect for companies who want to showcase their logo as often as they can, without getting their viewers angry.
Every example of the preview is made with a few clicks! All basic customization options like colors, flare brightness, positions, and also some more advanced options like changing the number of parts that are rotating (Quick rotation Logo), extrusion depth (every 3d logo) or options to change parts of the animation like the optional Fill-Up of the 3D Drop Logo are easily accessable within ONE layer.
The clean, bright, corporate and minimalistic look makes sure your Logo gets the most attention.
The 14 projects are all well structured and easy to customize. You can change everything since they are all 100% AE projects, no Plugins are required or prerendered.
14 unique Animations
clean & bright minimalistic Look
CS4 and above
no Plugins, no prerenders
easy customization with Control Layer
extensive 47 minute long videotutorial, showing you how to customize the 14 animations, even if you are new to After Effects
Expression Universalizer was used to support various After Effects languages
Photographers Logo
• Logo or Text option
• Sound effects track is included
• No plugins required (Render it, even with the trial AE version!)
• Optionally remove handheld movement
• One click background color customization
• FullHD resolution
• Both written help file & Video tutorial included